Explore the Next Wave of Consumer Trends with Synergy Flavors at IFT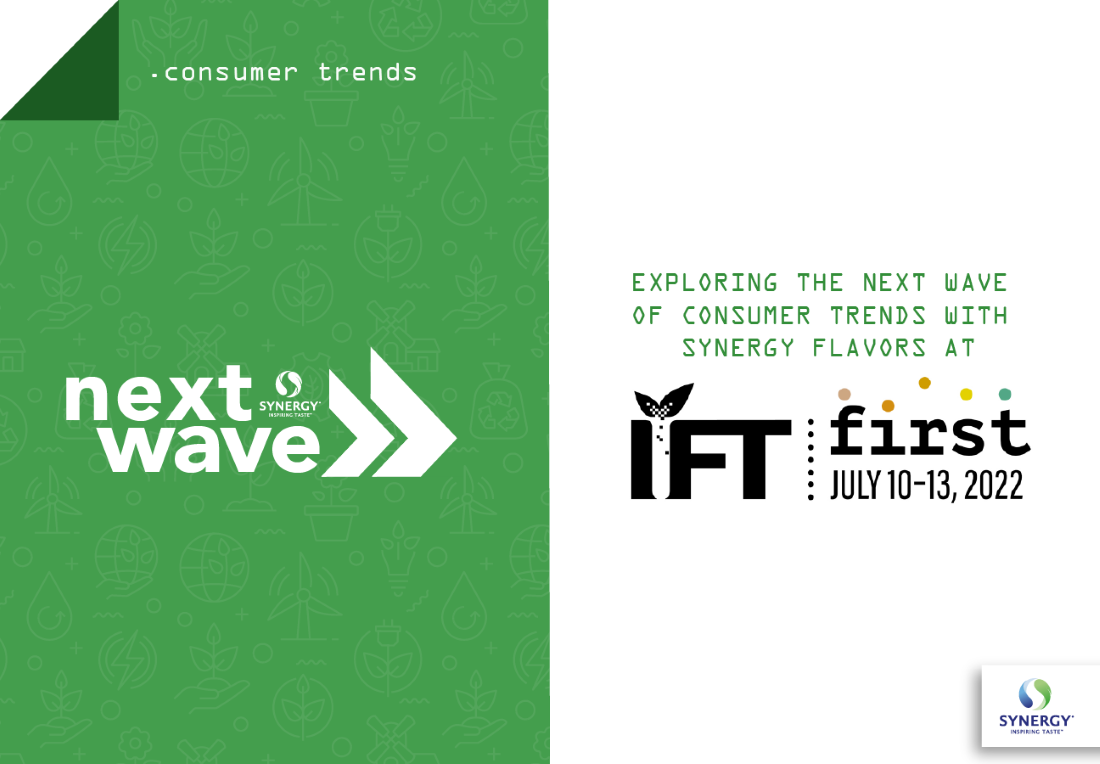 Consumer trend analysis is not a new concept in the food industry, but what is groundbreaking is being ahead of the game in predicting and implementing change. At Synergy Flavors, we idealized a futurist program for our customers that would do just that.
Introducing: Next Wave.
Next Wave is a first-of-its-kind program that leverages our insights team's ability to predict behavior changes, analyze how those changes will present themselves in the industry and develop solutions unique to your business to help you meet changing consumer demand.
We are excited to introduce you to Next Wave during IFT, which is returning in-person July 10-13 at McCormick Place in Chicago. Here's a snapshot of the four trends we will be introducing you to and from which our showcase of concepts to taste was created.
Self-Care
As overall trends in health and wellness continue to expand, consumers are taking a holistic approach to self-care, adopting a strategy of mindfulness and redefining their day-to-day activities. The trend has been adopted by nearly every generation and the drivers include burnout, wellness, health, mindfulness, self-acceptance, smart nutrition and comfort food.
To read more about this trend, visit our Inspiring Trends blogs From the Inside Out and Breathe Deeply.
Alternative Living
Plant-based products are shaping the future of food and beverage, offering a unique way to deviate from the norm. As innovation continues, the taste, texture and health benefits will only improve.
From dairy to burgers to seafood, our experts have perfected the art and science of flavoring meat alternatives. Visit our insights page to learn more about Synergy's capabilities in plant-based and segment trends.
Edible Escapism
The pandemic changed the way we see food and beverage. We became chefs whipping up ethnic cuisines in our kitchens, bartenders mixing up a premium drinks and baristas pouring ourselves the perfect cup of coffee to start the day. And we did it all from the comfort of our homes.
Find out more about Synergy's expertise in flavor inspiration in our blog, Adventure Awaits.
Digital Natives
Generation Z is called the digital native generation because they don't know a world without computers, digital devices and social media. Brands are now turning their attention to these new kids on the block, focusing on creating opportunities for a tailored approach to generations as demand for mass personalization continues.
Gen Z is very particular about their beverages and you can learn more about Synergy's beverage capabilities in our blogs: Starting Anew in 2022 with Better-For-You Beverages and The Future of Coffee series.
One-on-One Consultation
Synergy's Next Wave leverages our insights team's ability to predict behavior changes, analyze how those changes will present themselves in the industry and develop unique solutions to your business to help you meet consumer demand. Schedule a one-on-one workshop with us to receive an individualized assessment and ideation session for your product line.
insights