Starting Anew in 2022 with Better-For-You Beverages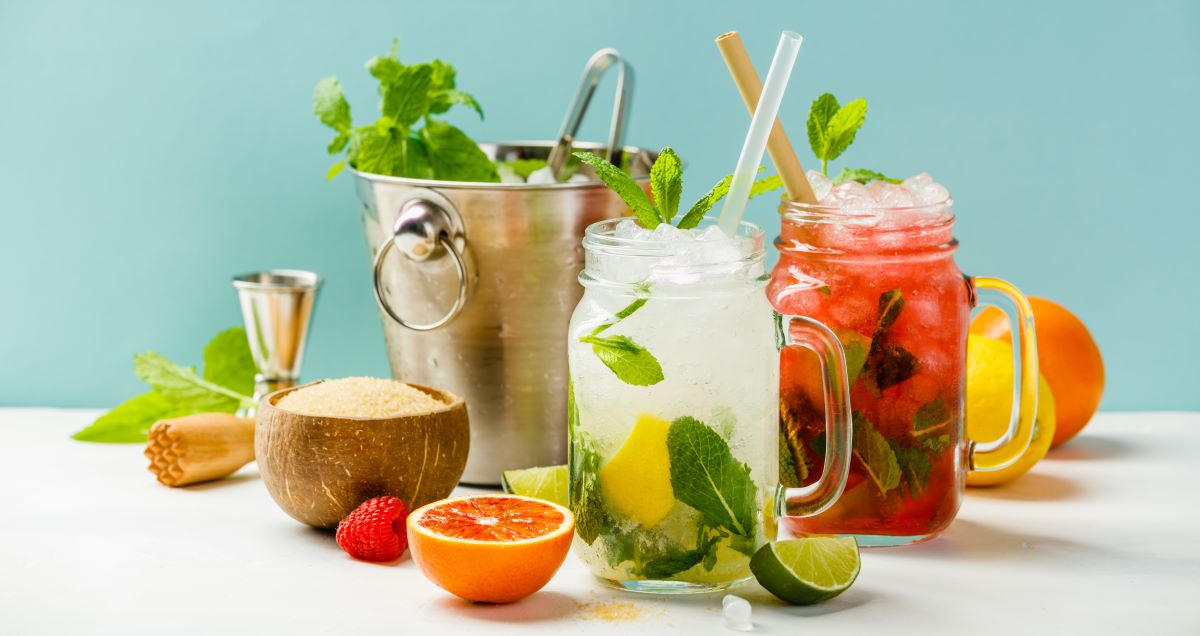 As the ball dropped in Times Square on New Year's Eve, you undoubtedly participated in the age-old tradition of New Year's resolutions. This probably included some sort of health pledge like vowing to quit all your bad habits, lose those extra pounds and be more mindful of what you put in your body.
The statistics on how many people actually stick to their New Year's resolutions throughout an entire year – six to eight percent – makes you wonder why people even make them in the first place. While that grim percentage used to be the status quo, global data and public opinion company YouGovAmerica, found 49% of those who made 2020 resolutions kept some but not all and 35% said they kept all their resolutions.
It seems the promises we make to ourselves every year finally started to stick in 2020. This is most likely the result of COVID-19 disrupting our lives. The pandemic slowed us down and gave us the ability to make health and wellness a priority.
A greater work-life balance was achieved among those lucky enough to work from home during the pandemic. Suddenly there was more time in the day, which gave people the time to create an exercise routine and eat healthier. And because everything from boot camps to learning how to cook from a professional chef could be found online, wellness became the epitome of convenience.
Consumers Embrace Dry January
Two years into the pandemic, health and wellness is still the No. 1 priority for consumers. The top five most popular New Year's resolutions for 2022 according to Fox News are weight loss and improving health, improving finances, getting organized, quitting alcohol and maximizing productivity. Quitting alcohol has become an increasingly popular resolution over the past decade – even if it only lasts a month.
"Dry January" has turned into a global phenomenon. It started in 2012 as an initiative by Alcohol Change UK to raise money for alcohol abuse and treatment and has grown to an annual event with participants in Europe and the United States. The nonprofit says by abstaining from alcohol, you can "ditch the hangover, reduce the waistline and save some serious money by giving up alcohol for 31 days." Weight loss, wellness and improving finances are said to be benefits of an alcohol-free month and conveniently are the top five resolutions of 2022.
Consumers understand food and beverage can have a profound impact on how you feel, which makes committing to a hangover-free existence really appealing and easily done after a long night of New Year's Eve celebrations. But after a couple of weeks in, do people maintain an alcohol-free lifestyle as they start to notice the health benefits or do they indulge in cocktails, forgetting about the dreaded day – or two – after that, they spend recovering?
I think it's safe to assume both happen during Dry January, but the great news is there are plenty of better-for-you beverages out there to make the month or New Year's resolution doable. As Karolina Rzadkowolska, life coach and founder of Euphoric Alcohol-Free, told Fox News: "It's perfectly okay to socialize or decompress with a drink, just change the drink."
Functional Beverages Meet Consumer Needs
Better-for-you is one of the major consumer need states, which includes flavors and ingredients associated with wellness to help people achieve their all-encompassing health and wellbeing goals. Ingredients that deliver better-for-you properties while simultaneously adding to or intensifying a product's flavor is in high demand, according to Mintel's Setting the Right Goals for Flavour Innovation in 2022 report.
Botanicals, mushrooms, adaptogens, herbs and fermented flavors can meet consumer needs for products with functional properties and great taste at the same time, according to Mintel. Consumers in the U.S. look for a broad range of functional benefit claims, including short-term impacts like hydration and energy boost to long-term benefits like anti-aging and beauty-enhancing properties.
Last year, 31% of consumers consumed food and drink products for hydration and 25% looked for calming or relaxing benefits. In the market, O.N.E. Coconut Water claims to "Rejuvenate your body and taste buds," while Pop & Bottle Golden Turmeric Almond Latte claims to regulate stress and Walmart's Great Value Blackberry Hibiscus drink mix promotes relaxation.
Consumers are prioritizing exercise, relaxation and sleep more so since the pandemic and are looking for food and drink that meets their needs. According to Mintel Purchase Intelligence, 38% of U.S. consumers say they would buy Glacéau Smartwater+ Ashwagandha Tangerine Extract Tranquility Vapor Distilled Water, which is said to offer relaxation properties. In Russia, Nature's Own Factory Buckwheat Tea Drink with Mango says it's rich in vitamins and minerals, including magnesium, iron and vitamins B2 and B2, which help prevent chronic fatigue and improve sleep.
As a result of the pandemic, consumers continue to look for ways to improve their immune systems. Globally, the percentage of launches with an immunity functional claim increased 29% in food and 37% in drinks between October 2020 and September 2021.
In the market, Lifeway Organic Strawberry Prebiotic + Probiotic Kefir Cultured Whole Milk claims to support a healthy immune system, promote a balanced and diverse microbiome and is a good source of gut-nourishing prebiotic fiber. Rebbl Straight Black Stacked Coffee is made with lion's mane and reishi and contains L-theanine, which claims to support immunity and deliver smooth, balanced energy with sustained focus.
The demand for citrus flavors continues to rise as consumers associate it with food and drinks that boost their immune systems. Lemons, blood oranges and grapefruit are increasingly featured in new food and drink products that claim to boost immunity, according to Mintel. For example, Veld-Frut Mini Ice Pops: Lemon with Organic Chia & Blue Matcha recently debuted in Mexico and Innocent's Blood Orange, Pomegranate, Orange & Lime Juice can be found in Italy.
Moving forward, brands that marry healthfulness and great taste in one beverage will enhance overall satisfaction and increase its market share. Learn more about citrus flavor profiles through our Citrusology webinar series. Synergy Flavors can help you find fresh inspiration for citrus flavor, contact us to learn more.
Low and No Alcohol Gains Greater Traction
Gen Z continues to drive growth in the low and no alcohol market with 63% saying low alcohol drinks are a healthy alcoholic beverage option. With an increase focus on health and wellness, consumers are increasingly turning to alcohol alternatives. In a survey by FMCG Gurus, 30% of consumers reported having decreased their alcohol intake because of the pandemic.
In the market, Spirity Cocktails launched a line of "mindful" non-alcoholic cocktails in the U.S., including Mindful Negroni, Mindful Margarita, Mindful Mule and Mindful Apricot Sour. Heineken's Desperados Virgin 0.0% is its first alcohol-free product created from a "unique recipe of citrus and zest of lemon." Lilo launched a lower ABV hard seltzer in the UK that uses sparkling Scottish water and distilled botanical spirits. Truly has a new line of lower ABV margarita-inspired flavored hard seltzers, including Mango Chili, Watermelon Cucumber and Strawberry Hibiscus, which will hit shelves this month.
As low and no alcohol products continue to rise in popularity, London-based international spirits magazine, The Spirits Business, named Clean Co, Three Spirit and Lyre's as the segment brands to watch in 2022.
Synergy's Beverage Expertise
From non-alcoholic spirits and beers to premium soft drinks, Synergy's collaborative environment enables you to create great-tasting beverages with our natural flavors, extracts, essences and taste modulation solutions. Synergy draws on its 135-year beverage expertise to develop new extracts and flavor solutions for the low and no alcohol category.
We have created a sophisticated toolbox of solutions for this growing market by blending different extracts and flavors using a range of traditional and modern extraction techniques. Synergy's portfolio allows manufacturers to layer different flavor notes to mimic the complexity of alcohol alternatives. The technical challenges involved in creating low and no drinks mean that consulting a flavor and beverage specialist like Synergy Flavors is key to your product's success. Our market and consumer insights help us anticipate flavor trends to help your product stand out. From new product development, range improvement or modifications in line with new legislation or regulations, our experienced applications team is here to support you.
To learn more about Synergy's functional, low and no alcohol beverage expertise, contact a member of our team.
insights