Taste the Next Wave of Nutrition at SupplySide West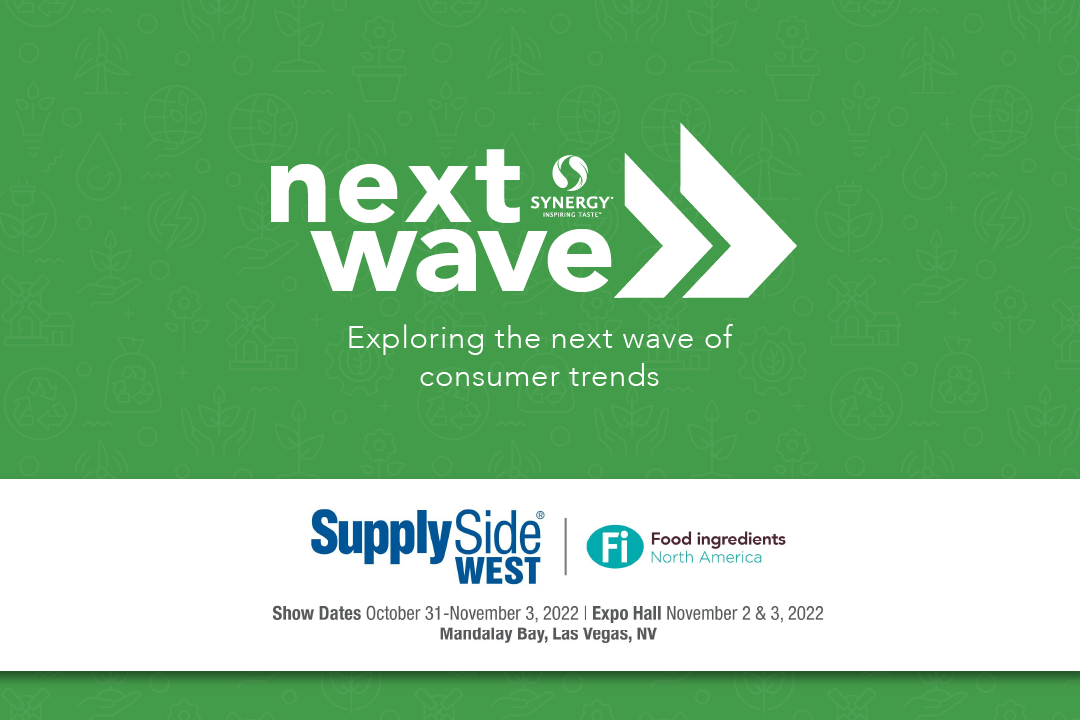 Every category in the food and beverage industry experiences both fads and trends. Fads fade away as quickly as they came in, but consumer trends are often here to stay for a while.
At Synergy Flavors, we are investing in understanding our customers' consumers and identifying behavior changes that will serve as our foundation for innovation. To truly be a great partner to our customers, we not only have to understand what's happening in the industry, but also translate that into what it means for them in terms of product line expansions and successful flavor launches.
We idealized a tool that will drive conversation with our customers and lead to furthering our combined innovation pipelines. Introducing: Next Wave.
Next Wave is a first-of-its-kind tool that leverages our insights team's ability to identify behavior changes, interpret how those changes will present themselves in the industry and implement solutions unique to our customers' businesses to meet changing consumer demands. The current wave of consumer trends includes Self-Care, Everyone's a Gamer, Tailored Approach to Generations, Breakfast Expanded, Edible Escapism and Alternative Living.
If you are interested in applying any of these trends to your business, contact us to learn more.
Taste the Next Wave at SSW
SupplySide West (SSW) 2022 hits Las Vegas in November, combining indulgence and better-for-you in one place, which inadvertently speaks to the biggest food and drink struggle consumers face today. In a recent blog, we explain how we are all swinging back and forth on the consumer trend pendulum between satisfaction and enjoyment.
At the start of the pandemic, Mintel reported that half of consumers resolved to eat a diet that reduced their risk of lifestyle diseases. Better-for-you food and drink choices fall under the satisfaction category, which is described as the pursuit of virtue, excellence and the best within us.
But these ongoing times of crisis have us seeking pleasure and escapism, which falls under the enjoyment category. The solution to these conflicting thoughts is creating products that promote "mindful comfort," according to Mintel. Meaning the recipe or format is adapted to make the food or drink feel both indulgent and healthy. "Pleasure is defined as a combination of satisfaction and enjoyment," Mintel Trend, Enjoyment Everywhere explains. "And, to flourish, most people require a combination of both."
Our showcase of concepts during SSW will not only offer a combination of satisfaction and enjoyment, but also allow you to taste innovation in nutrition that was developed based on three Next Wave trends: Alternative Living, Digital Natives and Everyone's a Gamer.
Alternative Living
Nutrition became a focus for many who hoped to support their immunity during COVID-19 and beyond. Consumer focus remains on their health and wellness, but rising prices will define the next shift in nutrition priorities, specifically meat and other animal products. Plant-based products are shaping the future of food and beverage.
From dairy to burgers to seafood, our experts have perfected the art and science of flavoring meat alternatives and alternative dairy applications. Visit our insights page to learn more about Synergy's capabilities in plant-based and segment trends.
During SSW, stop by for a taste of our vegan egg roll and cinnamon cereal milk-flavored plant protein bar to experience the trend.
Digital Natives
Generation Z is called the digital native generation because they don't know a world without computers, digital devices and social media. Brands are turning their attention to these new kids on the block by creating opportunities for a Tailored Approach to Generations as demand for mass personalization continues.
This generation has heightened awareness of overall mental health, so moderation is key, especially when it comes to alcohol. Learn more about Synergy's beverage capabilities from our blogs: Starting Anew in 2022 with Better-For-You Beverages and The Future of Coffee series.
Stop by for a glass of our blueberry pomegranate lemonade-flavored relaxation beverage during SSW while snacking on our mango tajin protein clusters to experience the trend.
Everyone's a Gamer
Consumers are gaming – and watching others game – more than ever before. Esports and the video gaming industry have boomed in recent years because of the variety of ways to play and COVID-19 only accelerated the growth of this trend, influencing consumers and categories.
The modern gamer has different need states and products that improve energy, focus and performance have always been appealing. But there is also room for other novel products like meal replacements, healthier snacking and products that support postgame relaxation.
To learn more about this trend, watch our latest Trendcast: How Gamers and Esports became a Key Target for Food, Beverage & Nutrition.
Need an energy boost during SSW? Stop by our Booth 2065 and grab peach ring-flavored nootropic energy gummies and a dragon fruit prickly pear-flavored energy drink to wash it down to experience the trend.
Schedule Your Innovation Session
We are excited to share more about Next Wave with you during SSW at our Booth 2065! Don't forget to stop by and taste each of our three trends via our showcase concepts. If you are interested in applying any of these trends to your business, schedule your innovation session to learn more.
insights