Discover the Next Wave of Innovation with Synergy Flavors at IFT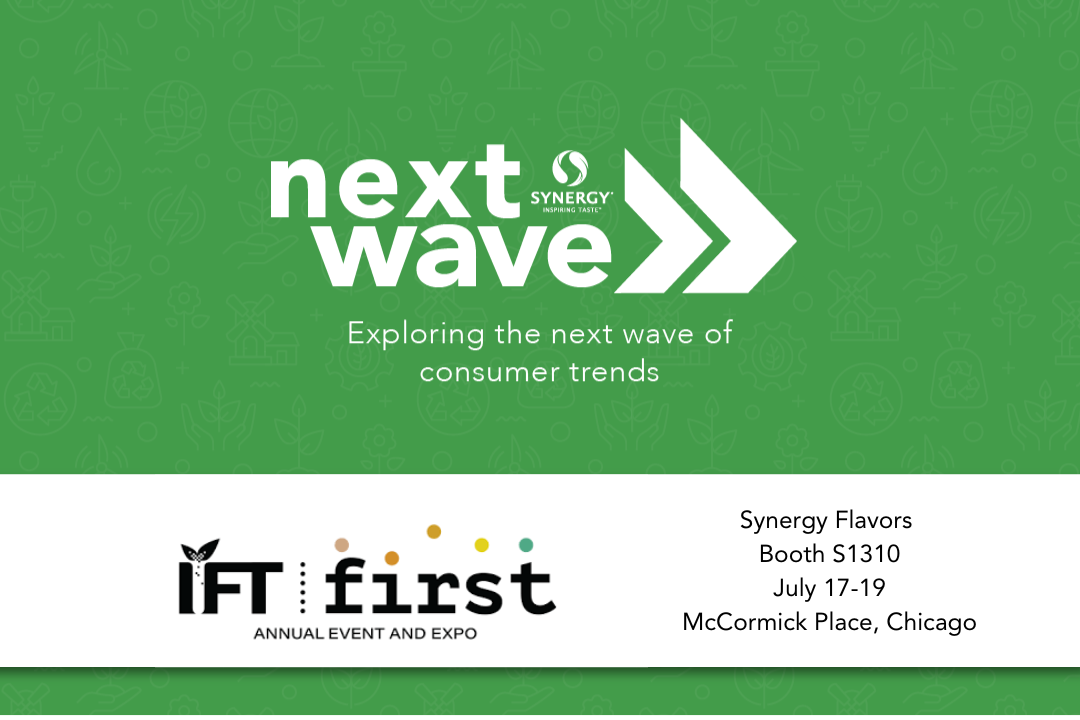 Consumer trend analysis is not a new concept in the food industry, but what is groundbreaking is being ahead of the game in predicting and implementing change. At Synergy Flavors, we idealized a futurist program for our customers that would do just that.
Next Wave is a first-of-its-kind program that leverages our insights team's ability to predict behavior changes, analyze how those changes will present themselves in the industry and develop solutions unique to your business to help you meet changing consumer demand.
We introduced you to Next Wave last year and are excited to expand on the program by showcasing new macrotrends during this year's IFT, which is returning to McCormick Place in Chicago from July 17-19. Here's a snapshot of the trends we will be exploring this year that will be paired with new concepts to taste how the trend is impacting food and beverage.
Gamers
Consumers are gaming – and watching others game – more than ever before. Esports and the video gaming industry have boomed in recent years because of the variety of ways to play and COVID-19 only accelerated the growth of this trend, influencing consumers and categories.
The modern gamer has different need states and products that improve energy, focus and performance have always been appealing. But there is also room for other novel products like meal replacements, healthier snacking and products that support postgame relaxation.
To learn more about this trend, watch our latest Trendcast: How Gamers and Esports became a Key Target for Food, Beverage & Nutrition.
Breakfast Expanded
When the pandemic hit, rushing became a thing of the past and our morning routines abruptly changed. Commutes were as long as it took you to get from the bedroom to the kitchen table for both adults and children, which triggered a change in breakfast consumption.
Breakfast Expanded focuses on the shift to more consumption occasions at home. Consumers have now prioritized socializing to start the day instead of ending with it. Six out of 10 consumers increased their consumption of made-from-scratch breakfast as a result of the pandemic, according to Mintel. And breakfast was no longer confined to the first thing in the morning – four out of 10 consumers report eating breakfast foods at other mealtimes.
To learn more about this trend, read our latest blog Next Wave of RTD Alcohol: Breakfast Expanded.
Alternative Living
Plant-based products are shaping the future of food and beverage, offering a unique way to deviate from the norm. As innovation continues, the taste, texture and health benefits will only improve.
From dairy to burgers to seafood, our experts have perfected the art and science of flavoring meat alternatives. Visit our insights page to learn more about Synergy's capabilities in plant-based and segment trends.
Edible Escapism
The pandemic changed the way we see food and beverage. We became chefs whipping up ethnic cuisines in our kitchens, bartenders mixing up a premium drinks and baristas pouring ourselves the perfect cup of coffee to start the day. And we did it all from the comfort of our homes.
Find out more about Synergy's expertise in flavor inspiration in our blog, Adventure Awaits.
Digital Natives
Generation Z is called the digital native generation because they don't know a world without computers, digital devices and social media. Brands are now turning their attention to these new kids on the block, focusing on creating opportunities for a tailored approach to generations as demand for mass personalization continues.
Gen Z is very particular about their beverages and you can learn more about Synergy's beverage capabilities in our blogs: Starting Anew in 2022 with Better-For-You Beverages and The Future of Coffee series.
One-on-One Consultation
Synergy's Next Wave leverages our insights team's ability to predict behavior changes, analyze how those changes will present themselves in the industry and develop unique solutions to your business to help you meet consumer demand. Schedule a one-on-one workshop with us to receive an individualized assessment and ideation session for your product line.
insights