Trendspotting: Mushroom Innovation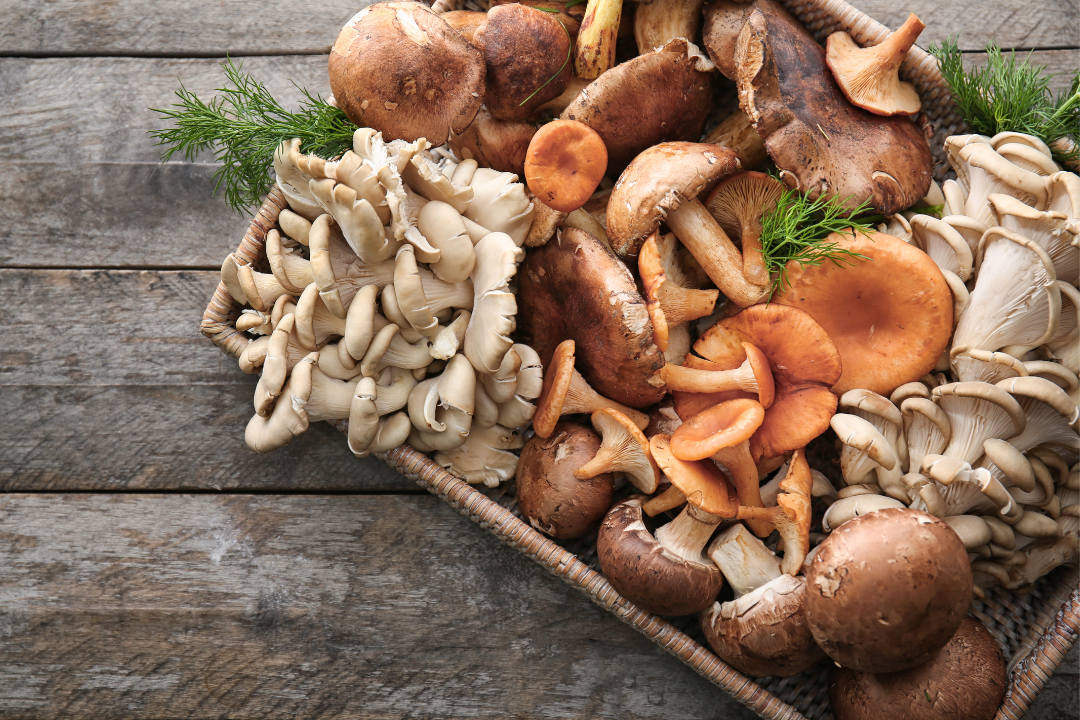 Earlier this year, Synergy Flavors highlighted five savory trends to watch in 2022 and No. 2 on the list was mushroom mania. Dubbed "the great shroom boom," mushrooms are in the spotlight this year for acting as meat replacements, the fat structure in dairy and boosting nutrients in beverages.
Fungi-Based Butter
Swedish start-up Mycorena's next area of mycoprotein or fungi applications is in high-fat dairy alternatives. After six months of "intense research and development," the company said it created a unique fungi-structured fat ingredient and claims to have successfully developed a prototype for the first mycoprotein or fungi-based butter.
Mycorena's breakthrough in fungi technology will allow it to explore what other ways this technique can be used and the company said it plans to soon launch a series of new product prototypes. "Usually, mycoprotein is considered a non-functional protein ingredient that needs other ingredients to create interesting food structures," according to Mycorena's Chief Innovation Officer Paulo Teixeira. "We have just shown here that this is not true; you just need to work it the right way."
This is just one recent example of how plant-based alternative innovation is leading to new and improved product lines. And to succeed in the alternative foods space, achieving the perfect flavor is key. At Synergy Flavors, our experts have grown familiar with the nuances of flavoring plant-based protein over the years and perfected the process.
We help our customers achieve product success by:
• Understanding the different market segments and the competitive flavor landscape.
• Using powerful database tools to track menu and flavor trends, as well as consumer preferences and then applying our unique insights to this discovery process.
• Creating custom tasting sessions of market products to help identify the flavor attributes you want most.
• Hosting custom culinary innovation sessions to help tailor your flavor profile.
Mushroom Innovation in Alcohol
Super Beta Glucan (SBG) Inc.'s Immulink MBG® is the first mushroom extract to receive FDA Generally Recognized As Safe (GRAS) Status. Because of its status, the company says non-distilled spirits manufacturers can submit the labeling to the TTB for approval.
Immulink MBG is comprised of mushroom beta glucan and is intended for use as a food ingredient in a variety of products, including baked goods and baking mixes, beverages and beverage bases, cereal and cereal products, dairy product analogs, milk and milk products, plant protein products, processed fruits and fruit juices, soft candy, and soup and soup mixes.
The ingredient is described as a fine light beige powder with a mild odor and bland taste. It is unique in its capability of being readily soluble in water, making it easily incorporated into beverage along with any emulsifiers or flavors.
"Aside from FDA's stamp of approval, what really distinguished the Immulink MBG from pulverized mushroom powders and other mushroom extracts is the proprietary extraction and purification process that is capable of removing all the impurities from the mushrooms," SBG VP of Research and Development Dr. William Wang said in a press release. "For the best interest of the consumers, we wish to become a pioneer in establishing a standard where the developments of mushroom-related products are based on the FDA GRAS approval."
Not all mushrooms have been approved by the FDA and are considered GRAS. SBG is a leading global manufacturer of mushroom beta glucan, providing customers with innovative, nutritionally balanced choices for consumers featuring Immulink MBG as part of the functional ingredients.
B-glucans derived from mushrooms have been used in Asia for health purposes for a long time, according to SBG. Several mushroom species reportedly have hypoglycemic, immunomodulatory, anti-inflammatory, antiviral, antibacterial or antiparasitic activities. In recent years, polysaccharides such as B-glucans extracted from mushroom have been examined for their potential anti-cancer/tumor inhibitory effect, according to SBG.
How Synergy Flavors Can Help
Whether you're working in plant-based dairy or meat or functional beverage, we have a flavor solution to meet your needs. We have been working in the plant-based space since 2003, specializing in both dairy and meat alternatives, and can help you navigate the unique challenges of the plant-based flavoring process.
Our beverage team works closely with SBG to include Immulink MBG in alcoholic taste solutions to meet the needs of our customers. Get in touch with us today to learn more.
insights