Trendspotting: Hibiscus is Blooming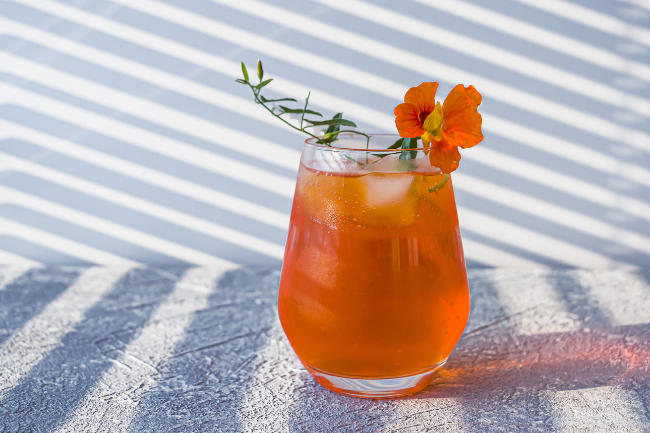 Earlier this year, we identified Botanical Bounce Back as a trend to watch in non-alcoholic drinks, citing wellness as a key factor in continuing to see this flavor category flourish.
While botanical flavors are not new to the beverage space, brands are exploring floral profiles and combinations that highlight the group of flavors consumers associate with relaxation and calmness (Innova Market Insights 2022). 
From well-loved lavender and rose to lesser-known orange and cherry blossom, we are seeing florals grow to new heights in food and drink, in both retail and foodservice spaces. One profile that continues to gain traction is Hibiscus. 
Hibiscus Origins
The exact origin of the hibiscus flower is not entirely known, though it has been cultivated in Asian countries (China, Japan, Pacific Islands) and Hawaii, and has been the national flower of Malaysia since 1960 (Singapore Infopedia). The entirety of the plant has been used in food, drink and medicine for centuries1, with the most common use being in tea form, either dried and boiled on its own or mixed with other ingredients to make flavored teas2 (1Singapore Infopedia, 2Repubic of Tea). 
Hibiscus in Beverage
Hibiscus is often found in alcoholic beverages on-menu and is considered a mainstream flavor in the category with an 18.3% menu penetration rate in the US from Q1 2022-Q1 2023 (Technomic Ignite). From flavored spirits to simple syrups and candied flower garnishing, hibiscus levels up cocktails to becoming an Instagram-worthy drink order. Often paired with tequila or vodka, you'll typically find hibiscus in restaurant originals and margaritas – like in Perry's Steakhouse & Grille's Rose Rosé Spritzer or Pappasito's Cantina's La Fresa frozen margarita (Technomic Ignite).  
Outside of cocktails, Hibiscus is also making strides in beer. The floral profile is one of the fastest-growing flavors in the North American beer market (Innova Market Insights 2023).  
Hibiscus Flavor Pairings
Known for its tart and subtly sweet flavor, hibiscus is often used in summer-time sweet and or tropical teas (Republic of Tea). Its fruit-leaning profile pairs perfectly with dark red fruits like sweet cherry and cranberry or refreshing citrus fruits like tangerine, lemon and orange peel (FoodPairing™).  
Pairing hibiscus with an also-growing exotic fruit, like blood orange or pineapple, in a flavored water or hard seltzer is a surefire way to entice consumers by tapping into their desire for edible escape.  
Hibiscus at Synergy
Our hibiscus extract, part of our Synergy Pure® line of water-based extracts and essences, offers product developers a clean-label, true-to-nature taste solution that is derived directly from the hibiscus plant. Its bright color offers a natural way to appeal to consumers' taste buds and their desire for a visually appealing product.  
Contact us to request a sample or to learn about our other hibiscus taste solutions. 
insights