Synergy Flavors Explores Breakfast Expanded at IFT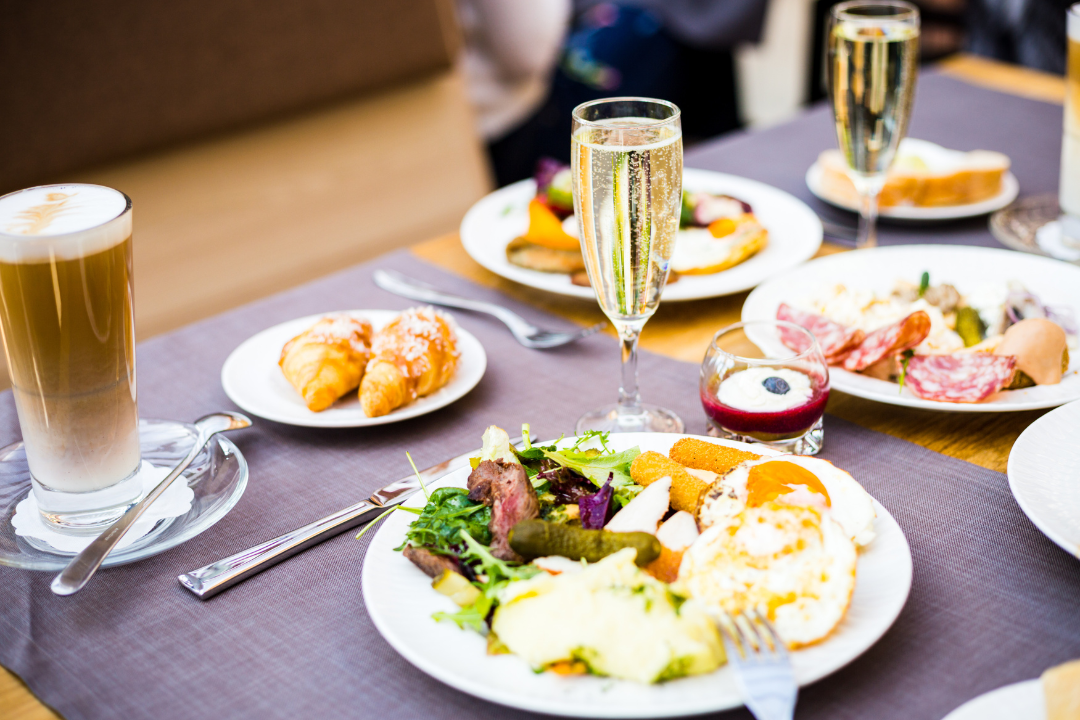 Breakfast Expanded is one of the Next Wave macro trends we will be debuting at IFT, which runs July 16-19 at McCormick Place in Chicago. Next Wave is a future-looking trendspotting tool Synergy Flavors created to enable innovation teams to get ahead of macro changes in consumer behavior.
We introduced you to Next Wave last year and continue to identify new consumer trends, interpret what the trend could mean for food and drink, then implement these trends through concept development and flavor creation.
What Is Breakfast Expanded?
Breakfast Expanded focuses on the consumer shift in behavior during the pandemic that triggered a change in breakfast consumption. We slowed down. Commuting went from hours to seconds working from home, allowing us to prioritize socializing at the start of the day instead of ending with it.
Six out of 10 consumers increased their consumption of made-from-scratch breakfast as a result of the pandemic, according to Mintel. And breakfast was no longer confined to the first thing in the morning – four out of 10 consumers report eating breakfast foods at other mealtimes.
What Does this Mean for Food & Drink?
Diverse menu. Just less than half of consumers eat the same breakfast daily, according to Mintel, but younger consumers think that's boring. Diversity of options opens opportunities for innovation and positioning as younger consumers are willing to consider even more non-traditional breakfast foods for morning meals.
Indulgence. Brands are finding success with sugary products, in line with consumer priorities, since the leading purchase driver in the category is taste. Innovation around morning meals with a twist should be in brands' pipelines today.
Cereal boom. People fell back in love with cereal during the pandemic. Delivering nutrition, convenience, affordability and versatility, breakfast cereal continues to enjoy a positive market sentiment in the post-COVID world.
Fill the foodservice void. Value, convenience and accessibility are an even greater selling point today than during the pandemic as consumers continue to focus on their health and pocketbooks. Retail brands expanding their portfolios with creative flavors and cuisines, as well as format fusions, can deliver excitement consumers may be missing.
Snackable size. Foodservice chains like Starbucks and Dunkin' reported strong upticks in mid-morning and late-afternoon sales during the pandemic, suggesting consumers may be turning to these more as a break than as a wake-up meal. Retail brands can focus on smaller sizes that appeal to snackers throughout the day and evening.
Calling All Coffee Lovers
Coffee is one of the most popular beverages and the second-most traded commodity globally, with more than 2.25 billion cups consumed daily. In the United States, more than 400 million cups are consumed every day.
Brewed coffee is most likely to be consumed in the morning, while other coffee drinks are consumed in the afternoon, according to Synergy's consumer research study. We found consumption of all types of coffee drinks has increased with 52% of consumers drinking more brewed coffee and 46% drinking more specialty coffee drinks like lattes.
Retail coffee continues to benefit from the economic and societal changes brought on by the pandemic. According to Mintel, roasted and single-cup sales thrive as many white-collar workers still work from home. We expect opportunities for premium blends, and products, gadgets and machines that allow consumers to create specialty coffee drinks at home.
Bellinis and Bloody Mary's
Breakfast Expanded continues to proliferate new dayparts and mealparts, bringing with it classic brunch cocktails in RTD format to enjoy any time of day. On the menu, vodka brands are often paired with specialty breakfast drinks followed by Tito's and tequila, and rum.
Bellini/Mimosa is listed as a menu item 79 times out of 191 menu items across 27 operators. The top rated LTO is Cracker Barrel's Peach Mimosa – it was ranked most popular, biggest traffic driver and most craveable, according to Technomic. Bloody Mary comes in second with 42 menu items and adult coffee drinks in third with 20.
Traditional cocktails with a breakfast twist that fall in the emerging and growing flavor lifecycle include micheladas, frozen prosecco, brunch punch, boozy dole whip, beermosas, fuzzy navel and aperol spritz. Some of the more traditional cocktails falling into the mainstream and mature categories include Irish coffee, bloody mary, espresso martini, palomas, mimosas, bellini, tequila sunrise, strawberry waffle and blueberry pancake.
Looking for More?
Come visit us at IFT Booth S1310 and take our interactive quiz to learn what type of brunch person you are, do you go straight to coffee, ask for cocktails please or prefer lunch over breakfast? After the quiz, enjoy a sampling of our Breakfast Expanded-themed ice cream sandwiches, featuring coffee cake, peach Bellini and chicken and waffle flavors.
insights