RTD Bourbon Cocktails and Kentucky Derby Weekend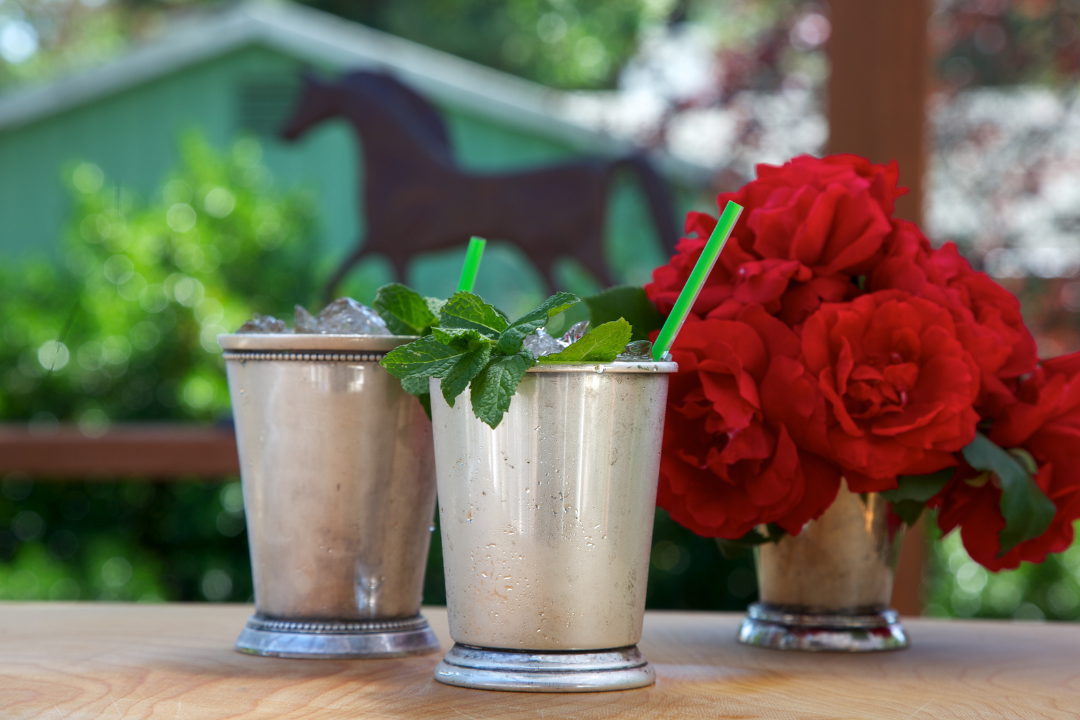 Known as "the most exciting two minutes in sports," three-year-old thoroughbreds will compete Saturday in "the run for the roses," during the 149th Kentucky Derby. The Kentucky Derby is the most well-known horse race in the world and the place to catch the latest spring fashions paired with big, elaborate hats while enjoying the event's signature drink: the Mint Julep.
The Mint Julep, made with bourbon whiskey, sugar and mint leaves, has been the traditional beverage of Churchill Downs and the Kentucky Derby for nearly a century. Every year, almost 120,000 Mint Juleps are served over the two-day period. The Kentucky Derby reports that requires "more than 10,000 bottles of Old Forester Mint Julep Ready-to-Serve Cocktail, 1,000 pounds of freshly harvested mint and 60,000 pounds of ice."
Kentucky Bourbon Preferences
Kentucky and bourbon are practically synonymous as 95% of the world's bourbon is produced in the state, according to Kentucky Tourism. From chilly winters to hot summers, Kentucky's temperature swings are conducive to producing bourbon that is then aged in charred oak barrels, giving the final product a distinct flavor and color.
Synergy Flavors conducted a primary research survey last year targeting bourbon drinkers' flavor preferences, specifically those in Kentucky. We chose a random week in September to launch the survey, so the results weren't skewed based on an event like the Kentucky Derby. During that period, 38% of Kentucky consumers had purchased bourbon whiskey in the past week and 29% had purchased it in the past month.
Of Kentucky whiskey consumers, 83% of them prefer bourbon compared to 62% of all US consumers, according to our research. Respondents said they enjoy and expect bourbon to have a lingering burn, which is what differentiates it from other whiskeys.
Below is our guide to Kentucky bourbon drinkers' preferences: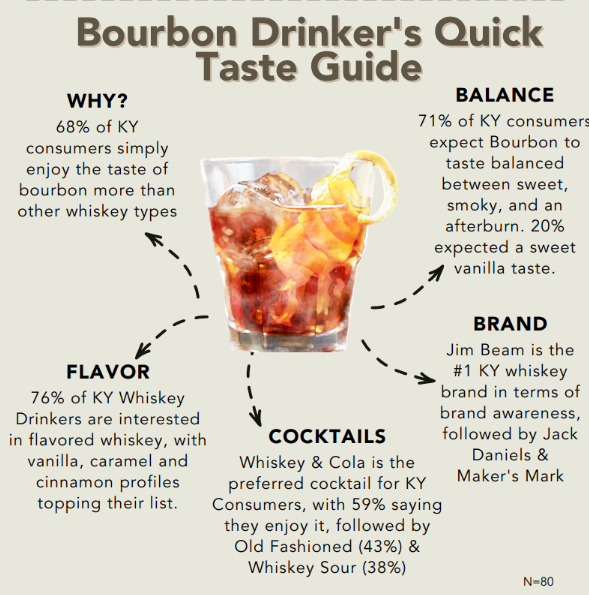 Alcohol Trends to Watch in 2023
We've seen from our survey that Kentucky bourbon drinkers have their flavor and brand preferences, but those two things are also important to every other US alcohol consumer. We kicked off the new year with our annual predictions of the most influential trends in several food and drink segments, including 5 Trends to Watch in 2023: Alcohol.
For those predictions, we leveraged our consumer insights tools to understand what the alcohol consumer wants to see in the market this year. From those learnings, we expect to see a battle of the brands and flavor when it comes to alcohol product launches. New products, line extensions and new brands will drive competition as the move from renovation to innovation begins this year.
Whiskey, as well as tequila and rum, are experiencing year-over-year growth, which means we expect these spirits to dominate the category this year. We anticipate a rise in new products and innovative launches that feature these spirits.
Flavor and cost will continue to lead as purchase drivers across food and drink. With inflation and economic concerns, these two attributes will continue to gain importance in repeat purchases for alcohol.
Flavor intensity is set to return as consumers seek more flavorful options of their preferred drinks. Globally inspired, tropical and berry profiles will continue to see growth.
Synergy's beverage experts understand both the art and science of crafting the perfect cocktail that meets the taste and label expectations of the most discerning consumer to ensure they become a repeat customer. From spirits to ready-to-drink cocktails to beer and hard seltzers, our highly collaborative environment offers ready-to-sample flavors and custom-created profiles to help design your next best-selling product.
Visit our market solutions page to learn more about our expertise and how Synergy can help you from concept ideation to full-scale commercialization.
insights