Use Flavors that Complement the Pantone® Color of the Year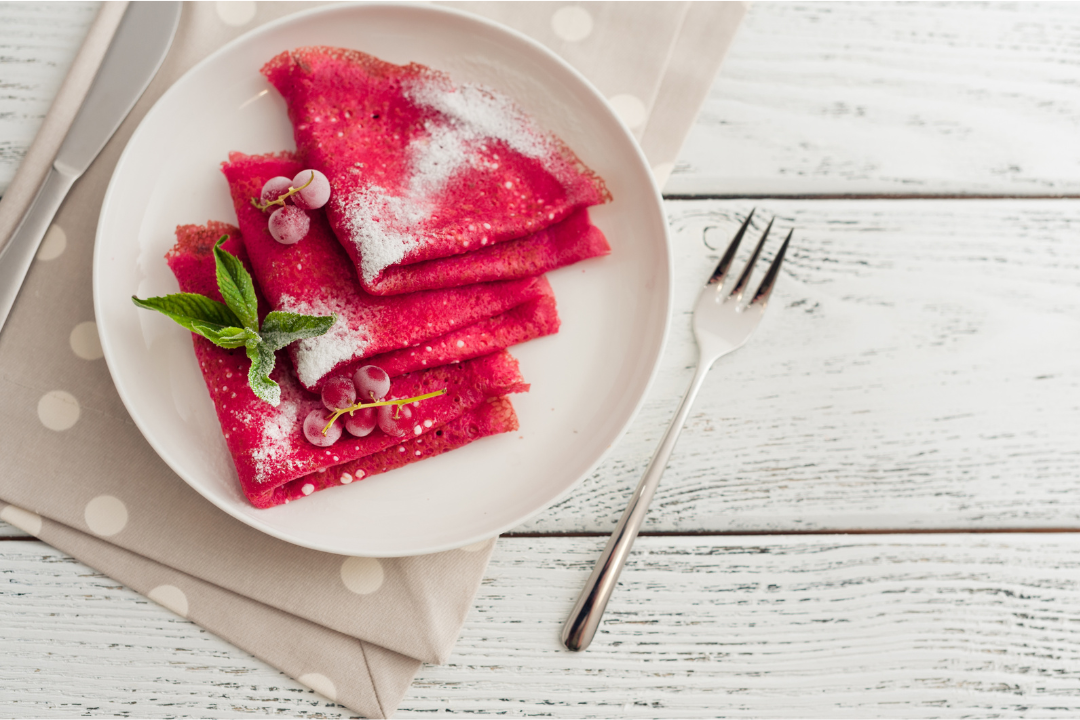 Shades of red are undoubtedly catching your eye on retail shelves and in Google search ads alike as we approach Valentine's Day. Shades of red are power colors that celebrate life, according to Pantone®, which recently announced its Color of the Year is Viva Magenta.
Viva Magenta descends from the red family and is inspired by the red of cochineal, one of the most precious dyes belonging to the natural dye family as well as one of the strongest and brightest the world has known. Brave and fearless, "Viva Magenta is a pulsating color whose exuberance promotes a joyous and optimistic celebration, writing a new narrative," Pantone explains.
Pantone chose this year's color after observing a heightened appreciation and awareness of nature represented through lifestyle trends. One such trend is a greater focus on protecting our bodies or health and wellness because of the pandemic. We are all more focused on what we consume, looking for trusted, natural ingredients.
Bright & Bold Beverages
Adding bright and bold colors, elaborate toppings and exciting flavor combinations help make your product stand out. Use the vibrancy of Viva Magenta to create colorful food and beverages to capture the attention of consumers.
For example, the aromatic lychee is sweet with slight floral and acidic notes. Its unique floral flavor makes it an intriguing offering for consumers, particularly when paired with other flavors.
Popular pairings include rose, elderflower, pear, raspberry, watermelon and pink grapefruit. A lychee and raspberry cocktail, for example, will create a magenta-like color to bring the bold, fun color of the year to menus just in time for Valentine's Day.
Berries are one of the 10 fastest-growing flavors in beverages in North America, boasting a 24.13% CAGR from 2017-2022, according to Innova Market Insights. The Innova report shows strawberries and red raspberries are featured in 40% of the top 10 flavor blends in beverages.
To learn more about lychee, visit our Flavors of the Future Vol. 3 East Asia report here. Synergy Flavors specializes in sweet taste solutions that deliver premium, indulgent and exotic flavors consumers crave. Contact us to learn more about our berry family of flavors and how we can help you bring Viva Magenta to life through flavor.
Beeting the Competition
Pantone's Viva Magenta is a shade rooted in nature, so it's fitting to choose something like the beet to create a bold savory dish. Why not wake up to pink beet pancakes for breakfast or enjoy the stunning color of hot pink beetroot hummus for lunch?
The beet pays homage to Viva Magenta with its vibrant color, earthy flavor and natural source of nutrients, including iron and folate. That sweet, earthy flavor could benefit from Synergy Flavors' taste modulation expertise, combining art, science and insight to help manufacturers deliver a more balanced flavor profile.
From herbs and spices to global cuisines, meat and masking flavors, Synergy offers a unique portfolio of savory taste solutions to meet your innovation needs. Contact us to learn more.
A Taste of Nature
Beets certainly root us in nature, but so too do herbs and botanicals. Hibiscus, for example, offers that deep pink or magenta-like color and is high in antioxidants, as well as other nutritional claims. The botanical is perfect for hot or iced tea or to enhance your cocktails.
Hibiscus is expected to have nearly a 50% increase in menu mentions over the next four years, according to Innova Market Insights. The botanical flavor's percentage of new product launches was 10% in 2021, up from 5% in 2017, Innova reports.
Botanical flavors create a distinctive and delicious taste experience for consumers. Synergy's proprietary processing system minimizes any loss of flavor and aroma volatiles during extraction, allowing us to capture the essence of a taste profile. Our natural extracts and essences for the food, beverage and nutrition markets deliver a one-of-a-kind experience that keeps consumers coming back for more.
insights