What Flavors are Kids Craving?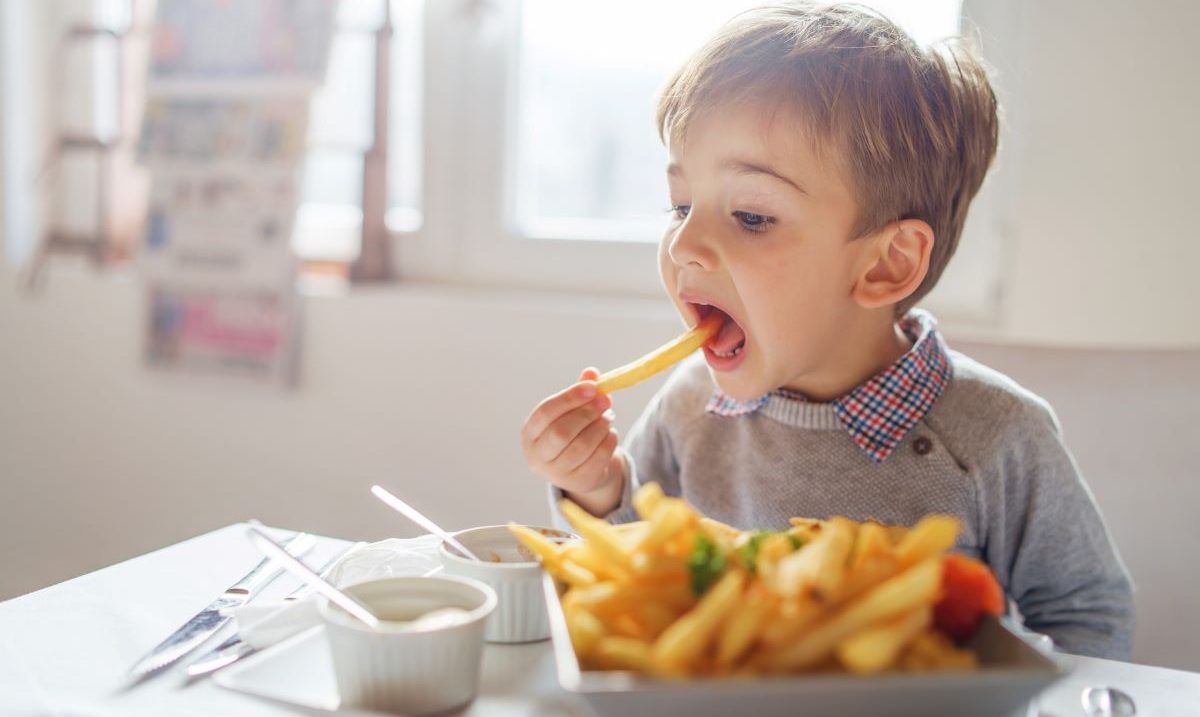 Developing successful food flavors is no easy feat and it's an even greater challenge when you're up against the world's toughest critics: kids. They are notorious for telling it like it is when it comes to food.When they don't like something, kids will communicate that in various ways, including scrunching up their face after one bite or just flat out refusing to try it based on appearance. While these critics can be ruthless, the best compliment often comes in the form of pure silence, which means they're eating – and enjoying – the food.
We know sweets will always hold a special place in kids' hearts, but as the meat and savory flavor experts, we wanted to understand what savory flavors kids today are craving. What we learned is that flavor discovery is really in the hands of parents who make the meals and choose the restaurants at which they dine, ultimately passing their food preferences and behaviors to their children.
Parents Introduce Ethnic-Inspired Flavors
Millennials shaped restaurant trends and culture through the mid-2000s and 2010s and were the driving force behind the foodie movement. They now make up the majority (59%) of parents with kids under the age 18, and want more sophisticated, internationally inspired food options for their kids. Millennials, Hispanic, and Asian consumers tend to be among the most adventurous eaters and biggest consumers of international cuisine, according to Mintel.
The desire for diversity in flavor stems from the changing demographics of America. For example, the Asian and Hispanic populations are growing substantially thereby driving mainstream interest in their cuisines. According to Mintel's Emerging International Cuisine Tracker (May 2020), regional Asian cuisine continues to increase its presence on U.S. menus.
Asian cuisines and flavors are unique and intriguing as they strive for a harmonious balance of textures, temperatures, and flavors: sweet, sour, salty, bitter, and umami. Emerging Asian ingredients, as well as Latin and Middle Eastern seasoning blends, and new chili pastes have been growing directionally over the last three years and bring global flavor to dishes, according to Mintel's Emerging International Cuisine Tracker (May 2020).
Some recent global product introductions featuring ethnic flavors include:
Presty! Kids Fusilli Marinara launched January 2021 in the U.S.

Hansalim White Kimchi for Kids launched January 2021 in South Korea.

Tilda Kids Mild Curry Rice launched February 2021 in the UK.

Zeina's Hummus with Chili debuted in Sweden in June 2020.

Tyson's Tajin Chili Lime flavored chicken nuggets launched Aug. 2019 in the U.S.
As we see from those global new product launches, food options for kids don't have to be bland. The tradition of kid food being flavorless seems to be a cultural phenomenon found mainly in the U.S. Babies and kids from around the world enjoy a far greater range of foods in their first year of life compared with those in the U.S., according to Mintel's Expanding the Flavor Palette of American Baby Food (Sept. 2010) report. A January 2021 Baby Center article medically reviewed by registered dietitian Erin Hinga says spices and seasonings in baby food are encouraged. "The more variety, the better, to expand your baby's tastes," the article states.
In France, for example, children 12 months and older are eating products like Petit Gems Pure Goodness that comes in flavors such as "Indian Rice with tender chicken." Pediatrician Dr. Susanna Block said in Mintel's report that infancy is a time for rapid development where sensory stimulation is crucial. She added that "baby can begin exploring the planet, one flavor at a time."
Passing Down Classic Comfort Foods to Kids
Consumers are leaning into comfort foods for security and consistency during these uncertain times. Comfort dishes share characteristics like warming, creamy texture, carbohydrate-heavy, or umami taste. This year, we will see an increase in demand for comfort food options, but they will have a twist.
While savory comfort food differs between cultures, consumers share an emotional bond offered by treasured dishes from childhood. We expect millennials will pass down classic comfort foods to their kids and knowing their desire for a sense of adventure with food, those dishes will most certainly offer a unique flavor combination.
Let's take mac and cheese, for example. It's a classic comfort food with 100 percent of Gen Z and millennials saying they "love it," and 98 percent of kids age 6-12 say they have had it many times, according to Datassential.
Mac and cheese is in the ubiquity stage of the flavor lifecycle, meaning it can be found everywhere. In fact, U.S. restaurant chains launched 75 new items with mac and cheese from Jan. 2020 to Feb. 2021. A couple of those new entrées include Wawa's BBQ Brisket and Mac & Cheese Bowl and Friendly's Buffalo Mac & Cheese Supermelt.
A good old-fashioned burger is also the epitome of comfort food, but it's getting reimagined as most consumers think burgers should only be an occasional treat because of health reasons. To combat that perception, restaurants are expanding burger occasions with snack-based positioning. For example, 73 percent of consumers agree that sliders are a good snack.
When consumers do indulge, 81 percent of parents say they enjoy trying new types of burgers and millennials are most likely to try new types of flavors, according to Mintel's Burger Trends: Including Impact of COVID-19 – US (Nov. 2020). Seventy-six percent of parents say they would pay more for a burger with new and unique toppings to give their children new experiences and combat cooking fatigue.
Consumers Crave Hot and Spicy
The emergence and rising popularity of both Latin and Asian cuisines have allowed consumers to explore spicy and umami flavors. Millennials and Gen Z are especially driven by hot and spicy flavors, outpacing other groups.
According to Mintel's Trending Flavors and Ingredients on the Menu – US (Oct. 2020), one-third of consumers are eating more savory and spicy flavors than they did a year ago. Twenty-nine percent of consumers agree that when it comes to spicy, the hotter the better, according to Mintel's Trending Flavors and Ingredients in Snacks – US (Feb. 2020).
Mintel data notes that consumer cravings for spicy flavors and complex heat are the catalysts for packaged brand innovation. In terms of proteins, hot and spicy flavors are also among the top five preferred flavor types.
Between 2016 and 2019, habanero, guajillo, and ancho chili peppers were the top three fastest-growing chili peppers on U.S. menus, according to Mintel. Ghost pepper has increased its presence on U.S. menus by 129 percent from 2015-2020.
To date, Datassential places ghost pepper in its adoption phase with 69 percent of consumers saying they know it and 23 percent have tried it. While it is most common at restaurant chains, ghost pepper has penetrated CPG innovation including store brand products. Meijer last year, for example, released its Ghost Pepper Salsa & Lime-flavored tortilla chips.
Look to QSRs for Flavor Inspiration
In August, only 38 percent of Gen Z consumers said they were comfortable dining inside a restaurant, but were more likely to visit QSRs, making them a favorite among kids aged 13 to 17. Gen Z consumers are more likely than older generations to frequently visit foodservice outlets for a snack, dessert, and late-night occasions, according to Mintel's The Gen Z Diner – US (Aug. 2020).
Some recent QSR menu item introductions in Datassential include:
Panda Express's new Shanghai Ribs feature pork ribs wok-tossed in a sweet and savory tangy glaze topped with sesame seeds.

Baja Fresh's Chile Lime Shrimp Bowl features Baja rice, pinto beans, fresh veggies and jalapeno avocado salsa, topped with fire-grilled shrimp and chile lime dressing.

Arby's creamy and smooth white cheddar mac and cheese made with elbow macaroni.

Carl's Jr's BLT Ranch Double Cheeseburger features two all-beef hamburger patties topped with melted American cheese, bacon, lettuce, tomato, and creamy herb ranch on a toasted plain bun.
Based on our research findings, we have developed a top 10 list of mainstream and emerging flavor ideas for kids.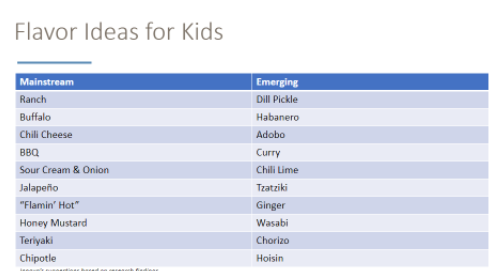 Contact us today to learn how we will apply our findings to assist you in creating consumer- and kid-preferred flavors!
insights