The Future of Coffee: Trends and Emerging Flavors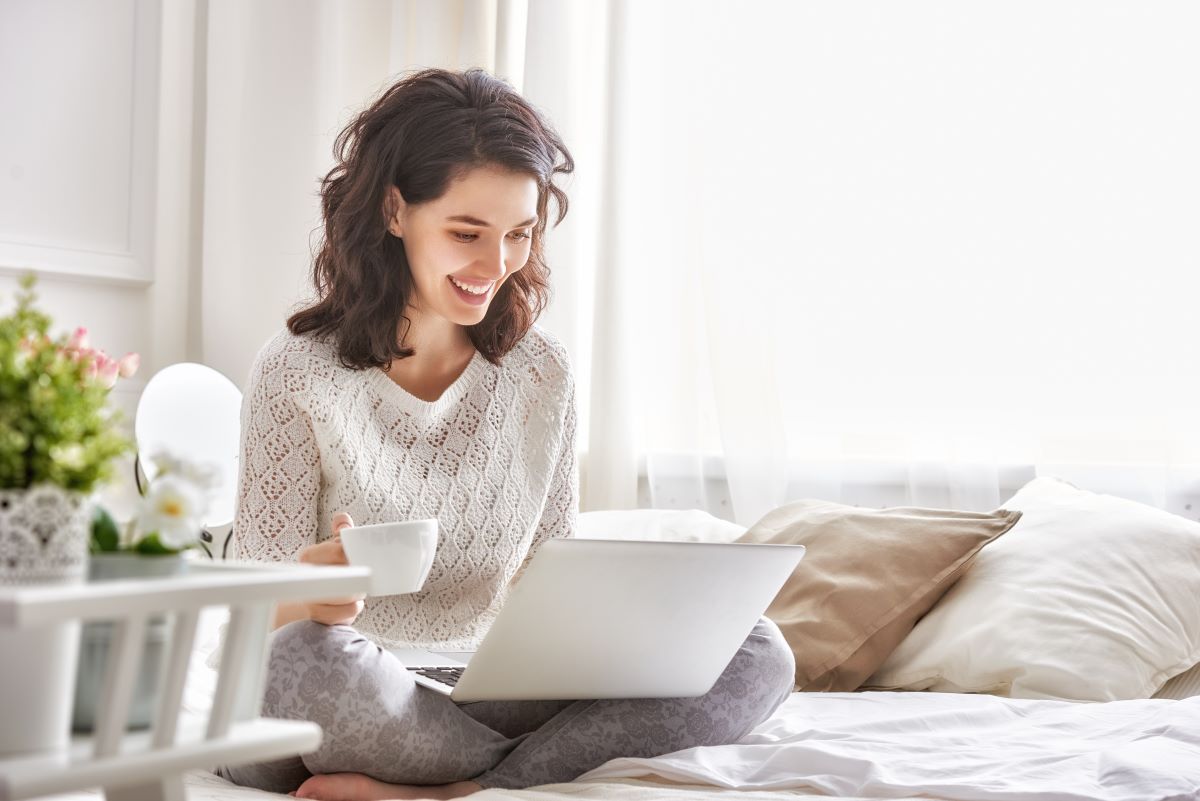 Almost 40 years ago, Folger's debuted its catchy jingle that reminded us that the "Best Part of Waking Up…" was our home filled with the aroma of brewed coffee and a fresh cup to help us bring on the day.
While definitely not the intention of the coffee company, you can finish the second part of the jingle by naming your preferred coffee brand with what's in your cup, but the message remains the same.
When the commercial aired in 1984, as well as the different iterations that followed throughout the '90s, it showed a slow morning at home with couples waking one another with the smell of coffee. Over the years, our lives evolved from sitting down with the family for breakfast every morning with freshly brewed coffee before work or on the weekends to grabbing an on-the-go meal bar and rushing to get out the door, no matter what day of the week. Which meant our morning coffee was usually bought on-the-go, stopping at Starbucks or Dunkin' Donuts before getting to work or starting the weekend to-do list.
You know how old fashion trends make a comeback and become trendy again? What's happening today in the world of coffee is much like that. The coronavirus pandemic halted our on-the-go lifestyles and lockdowns had us working from home, which lessened the need and, quite frankly, our desire to go out and buy a cup of coffee. This lifestyle change helped take people back to the time when they were able to sit and enjoy their cup of coffee.
That does not mean people stopped drinking coffee. In fact, the coffee category saw growth in 2020 and the U.S. Census Bureau, Economic Census estimates the market reached $15.6 million last year. According to the economic census, the category is expected to continue growing over the next few years, forecasted to reach $18.3 million in 2025.
So where are people drinking coffee? You guessed it: at home!
The Rise of At-Home Consumption
Consumers reverted to the days of waking up to the smell of fresh coffee as home became their sanctuary during the public health crisis. Especially during the colder months when dining outside at a restaurant is not an option for everyone, people stayed home to eat every meal. Although restrictions have loosed up throughout the country, a recent survey by Morning Consult shows 35% of still people do not feel comfortable dining inside a restaurant.
According to Mintel, away from home coffee consumption is not expected to bounce back for a few years but retail coffee will continue to benefit from the economic and societal changes brought on by COVID-19. Last year, consumers reduced their consumption of coffee away from home because of the lockdown and began buying premium retail coffee beverages. Since the end of 2020, roasted and single-cup sales continue to thrive as many white-collar workers continue to work from home and businesses adopt flexible work from home policies.
As a result, we will continue to see opportunities for premium blends, and products, gadgets and machines that allow consumers to create specialty coffee drinks at home.
Consumption Patterns and Flavor Trends
Coffee is one of the most popular beverages and the second-most traded commodity globally, with more than 2.25 billion cups consumed daily. In the United States, more than 400 million cups are consumed every day.
Brewed coffee is most likely to be consumed in the morning, while other coffee drinks are consumed in the afternoon, according to Synergy Flavors research conducted March 2020. Sixty-seven percent of consumers reported drinking brewed coffee in the morning and just 32% said they drink it in the afternoon. The afternoon is also when 24% of consumers say they reach for K-cups or other K-cup type coffee, which indicates a preference for convenience during that day part. In the evening, 29% of consumers still reach for brewed coffee but 24% also report enjoying hot tea at that time.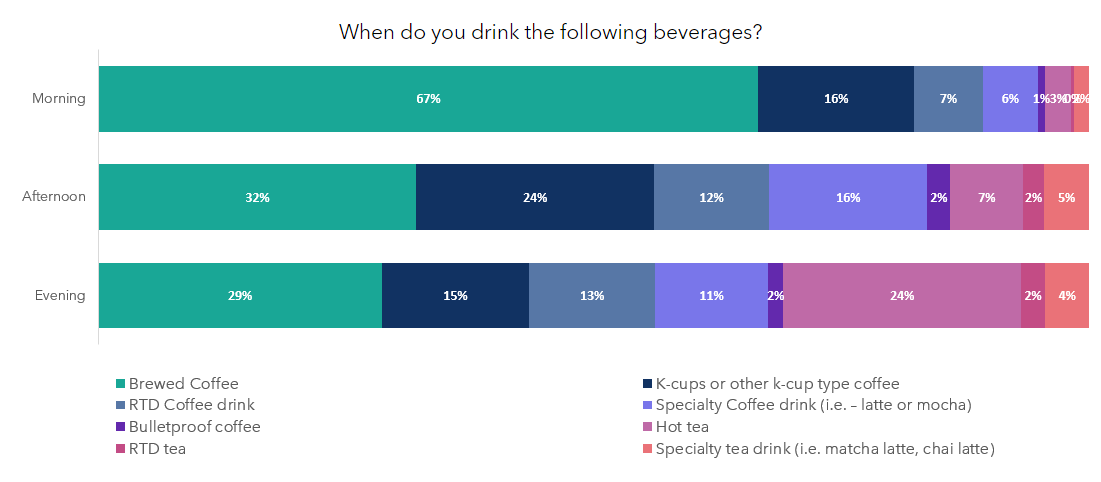 We found consumption of all types of coffee drinks has increased over the past year. Fifty-two percent of consumers reported drinking more brewed coffee than they had the year prior, followed by 46% saying they are drinking more specialty coffee drinks like lattes. Consumers are also reporting an increase in hot tea consumption, with 49% of people saying they started drinking the beverage more over last year. While brewed and specialty coffee are popular, consumers want variety, both in terms of format and flavor.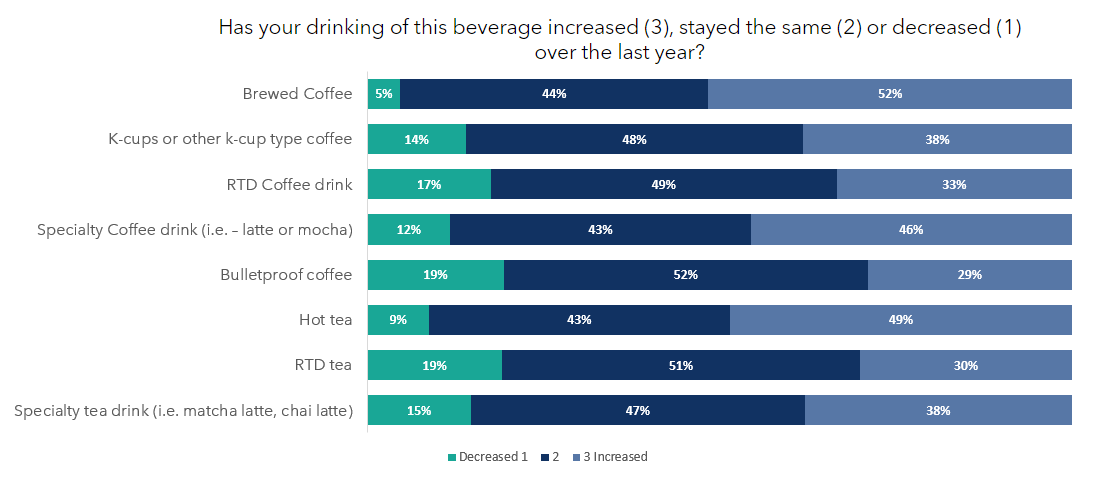 In terms of ready-to-drink (RTD) coffee and tea, about half of consumers reported their consumption stayed the same prior to the pandemic. RTD coffee, which tends to lead innovation in the category, is seeing increased consumer demand for nostalgic, tropical fruit and fantasy flavors. Fantasy flavors like unicorn, for example, appeals to 31% of consumers while 29% say they would be interested in nostalgic flavors like peanut butter and jelly and s'mores, as well as tropical fruit flavors like pineapple, coconut and mango.
How Can Synergy Flavors Help?
At Synergy Flavors, we specialize in flavor creation with more than 150 years of experience and 60,000 flavor formulations in our database. Our expertise lies in many different categories, including coffee and tea. Together with our customers, we co-develop beverage products that appeal to the constantly evolving consumer through our development solutions, flavor expertise, production support and industry network.
Through our state-of-the-art Synergy Pure™ extraction process, we produce industry-leading coffee flavor ingredients captured at the very peak of their quality. Available as essences, extracts, and concentrates, our coffee products are sourced from around the world and deliver a deliciously freshly-brewed profile. Suitable for a diverse array of food and beverage applications, each of our Synergy Pure essences and extracts are produced using strict quality control and a state-of-the-art, proprietary technologies that maintains aromatic, color, clarity and bioactive properties.
To request a sample or for more information on how Synergy Flavors can help, contact us today!
insights