Inspiring Trends 2021-2022: Adopt the Pace of Nature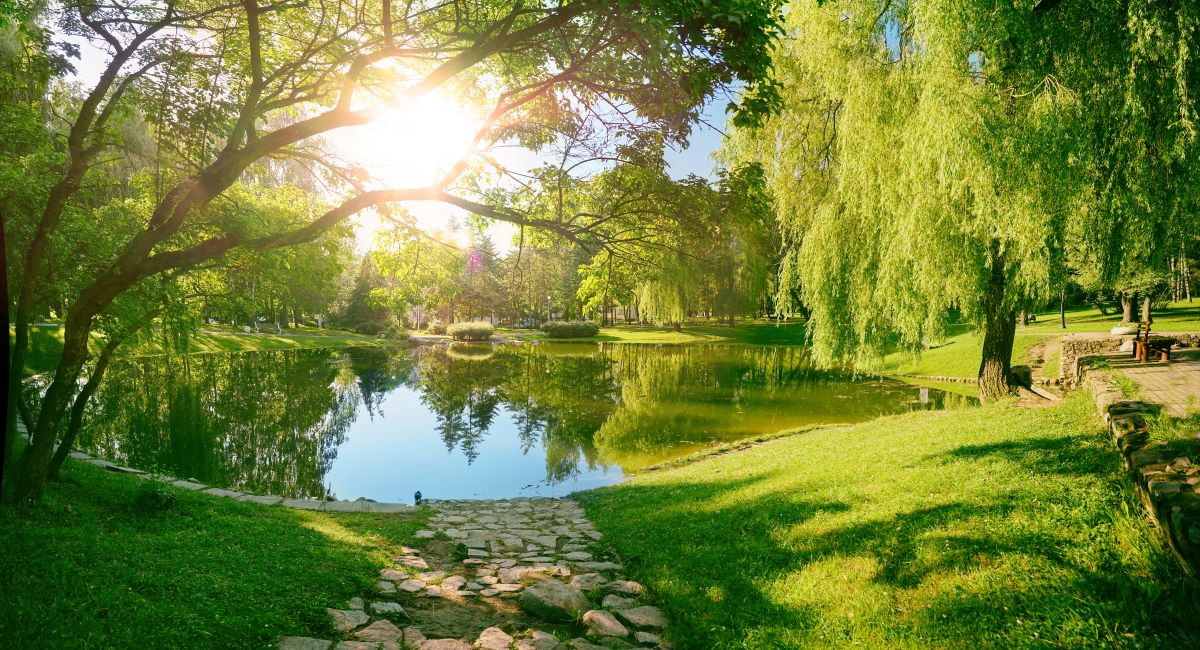 The past 15 months have been a rollercoaster of emotions that mostly parallel the seven stages of grief. First came shock and denial about how significantly the coronavirus pandemic would impact our lives. Depression followed as we mourned our old way of life and the havoc the virus caused throughout the world.
But eventually, we found a way to accept our new reality and began to see hope as vaccines were approved and states begin to fully reopen.
Through all the stress, worry, fear and anger, you could say the one benefit that came out of the pandemic was learning to slow down and enjoy our lives, family and friends again. When was the last time you felt rushed or crunched for time? Have you noticed you're more focused on your health and wellness? And have you seen improvements?
The coronavirus pandemic stopped our hectic on-the-go lifestyles dead in their tracks and taught us how to Adopt the Pace of Nature. As Ralph Waldo Emerson said, "Adopt the pace of nature: her secret is patience." The American poet and philosopher's quote means that life is not to be all consumed with impatience and that adopting the pace of nature requires patience, and empathy for yourself and others.
You know that feeling you get when you hear Tim Allen describe a perfect vacation in the Pure Michigan television ads? As he talks, Allen's voice makes you feel calm, relaxed and somehow slowed down like you're already on vacation. That's exactly what adopting the pace of nature is all about – slowing down and focusing on taking care of your mind, body and overall wellbeing, with a pace in harmony with nature.
Living in Harmony
Most people have a proactive approach to health and the pandemic only exacerbated consumers' focus on health and wellbeing. As a result, consumers are seeking a more harmonious relationship with nature through food and drink, as well as create a balance within the mind.
Simple, clean labels and an emphasis on natural ingredients will only continue to increase in demand as consumers pay attention to what is in their food and drink. Gone are the days of fad diets and well-balanced health and wellbeing is in. Consumers know that eating well beautifies our bodies from the inside out. For example, more than 50% of women aged 16 and older agree that diet can impact skin's appearance.
Feeding not only the body but also the mind contributes to overall wellness. Sixty-one percent of U.S. consumers agreed that the pandemic caused them concern for their mental health, which led them to food and beverage for the answer. Consumers actively seek functional ingredients in products to help fight fatigue, remain focused, and bring about a calming effect with flavor profiles such as florals, herbs and other botanicals. 
If you're feeling inspired to learn more about these consumer trends and Adopt the Pace of Nature in your products that's fantastic because this is just a taste of the insights we have to offer in the coming months.
Inspiring Trends
Adopt the Pace of Nature is the first of four overarching global themes in our Inspiring Trends 2021-2022 program that we will be sharing with you over the next year. In addition to Adopt the Pace of Nature, our Inspiring Trends program includes Adventure Awaits, Good for Me & the Planet, and Connected.
Under each trend theme are three important focus areas that dive deeper into the consumer mindset. Each month, we will bring you a new blog that highlights one focus area more closely. We will share why it is important to consumers, what products are being brought to market to support the trend, and how Synergy Flavors can help support you in developing products that meet consumer demand.
Under Adopt the Pace of Nature, the three sub-trends we will highlight over the next three months include: Our Bodies Are Our Gardens, Breathe Deeply, and From the Inside Out.
Follow us on LinkedIn to be the first to learn more about Our Bodies Are Our Gardens later this month. If you're ready to Adopt the Pace of Nature in your products or to learn more, you can contact us today.
insights