From the Benefits to the Boozy Varieties: It's Tea Time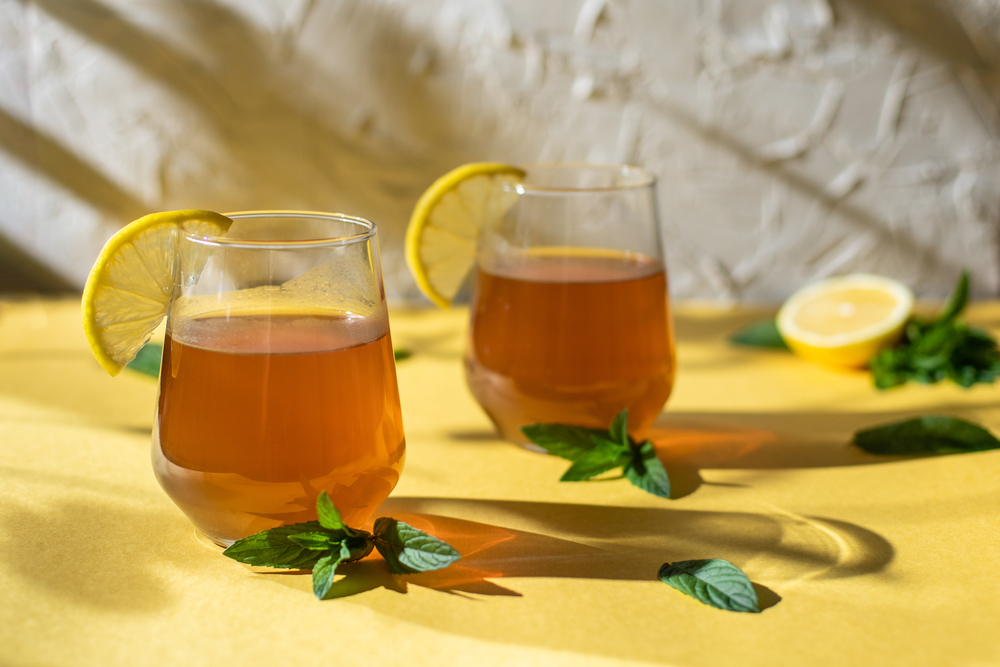 Tea is the second most consumed drink in the world. Last year, Americans consumed nearly 85 billion servings or more than 3.9 billion gallons of tea, according to the Tea Association.
The ready-to-drink tea market continues to gain its fair share of consumer spending and category sales are expected to reach more than $9.9 billion by 2026.
According to Synergy Flavors' primary research, 30% of consumers are drinking more RTD tea when compared to 2020. Consumers say they prefer to drink tea because it brings them enjoyment and they like the health benefits. More than 50% of consumers say no artificial flavors, sweeteners or colors are important claims when choosing a RTD tea. Consumers also want freshly brewed RTD tea and are interested in options with low or no sugar.
Like any other food and drink category, taste is the No. 1 purchase driver for RTD tea followed by variety. The two biggest purchase barriers for consumers are the high amount of sugar and calories in the category.
Consumers say their ideal RTD tea is not bitter, somewhat sweet with a green, black, herbal or white tea base. Preferred and core flavors include peach, mango, lemon and unflavored, while honey, vanilla and hibiscus are trending. In terms of health claims, organic and antioxidant are growing. Continued innovation into unsweetened tea options will help deliver on consumers' desire for less sugar and carbs.
Health and Wellness: Tea for Me
Mintel's Tea and RTD Tea report expects continued focus on health and wellness will renew interest in tea among regular users who increased their consumption and those who experimented with tea and will continue to use it beyond the pandemic. Tea's health benefit claims, like boosted immunity, contributed to increased consumption during the pandemic as health and wellness became a higher priority for most Americans.
According to Synergy's primary research, 25% of consumers say they drink RTD tea because of the health benefits. Trending functional claims in RTD tea include antioxidant, energy, brain and nervous system, stress and sleep, vitamin and mineral fortified, immune system, probiotic and collagen.
Successful market launches include POM Super Tea Pomegranate Elderberry Boost Tea, Rise Nitro Brewing Co.'s London Fog Nitro Earl Grey Tea, Swoon Lemonade Half + Half, Wellness Teavana Defense Orange Cinnamon White Tea and Hoplark's The Calm One Sparkling HopTea.
Tea with a Twist
White Claw launched its line of Hard Seltzer Iced Tea – a hybrid drink that combines alcoholic seltzer with sustainably sourced brewed tea – in March 2021 just before summer. It is available in 12-ounce can variety packs and feature four popular tea flavors – lemon, raspberry, mango and peach.
Hard seltzers enjoyed $4.5 billion in sales from May 2020 to May 2021 with White Claw and Truly making up 75% of the market share, according to NielsenIQ data. Hard seltzers perform best among adults aged 22 to 44 who are seeking out "healthier" alcohol options.
"Now, with sales still surging, it's overwhelmingly clear hard seltzer is no fad," Vinepair reported. "As the wave of its enormous success crescendos, multiple producers are betting on the next competitor: hard tea, a ready-to-drink spiked beverage flavored in still and sparkling form."
According to Synergy's primary research, 41% of consumers have not tried hard tea but are interested in doing so and 38% of those who have tried it enjoyed the product. Consumers want to see hard tea in pre-mixed cocktails and wine, in addition to hard seltzer. In addition to White Claw's Hard tea, Bud Light, Truly and Crook & Marker also debuted hard iced teas and Crown Royal Peach Tea offers a summer whisky cocktail.
Seventy-six percent of consumers say flavor is the most appealing attribute when purchasing alcohol and the trending flavors for hard tea include peach, raspberry, lemon, sweet tea, orange and ginger. We are also seeing growth in botanical flavors, such as Locust's Botanical Berry Hard Tea, VERVET's Tiki Tea and Owl's Brew Boozy Tea.
Synergy's Flavor Expertise
At Synergy Flavors, we specialize in flavor creation with more than 150 years of experience and 60,000 flavor formulations in our database. Our expertise lies in many different categories, including tea. Together with our customers, we co-develop beverage products that appeal to the constantly evolving consumer through our development solutions, flavor expertise, production support and industry network.
Through our state-of-the-art Synergy Pure® Extraction process, volatile flavor components are first captured, before soluble solids are extracted and concentrated using "flavor-friendly" techniques. The result is a robust and natural flavor that helps deliver the impact of freshly picked ingredients. We offer a variety of essences, extracts and concentrates in white, green and black tea varieties, as well as some common herbal profiles such as rooibos.
Whatever your application requirements, we have the tea flavor solution for you. To request a sample or for more information on how Synergy Flavors can help, contact us today.
insights