Cooking Sauces Need to Deliver Flavor and Affordability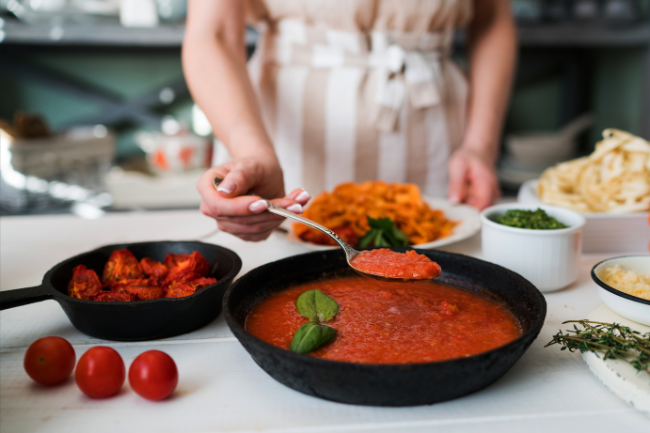 Inflation and shrinkflation are taking a toll on consumers' wallets. The price continues to climb for everyday goods as the weight or size gets smaller, making us all more conscious of our spending habits.
The United States Organization for Economic Co-operation and Development's consumer confidence index (CCI) was at its lowest point in the past decade at 96.54 in July 2022. A year later, CCI slowly climbed to 98.47 in July 2023. The OECD reports any number below 100 as consumers having a "pessimistic attitude toward future developments in the economy, possibly resulting in a tendency to save more and consume less."
As consumers continue to feel the pinch and see their dollar not go as far as it once did, they are seeking affordable alternatives in pantry staples like cooking and pasta sauces. According to Tastewise, social discussions for sauce grew 5% over the past year and affordability is a top experience with sauce, growing 8.8% YOY. The report shows the fastest-rising consumer needs for affordable pasta sauce are taste and freshness. So, while consumers want it to remain affordable, they also need it to taste good and fresh.
Cooking Sauces Need to be Tasty and Affordable
Cooking sauces are versatile, allowing chefs of all skill levels to add flavor to their dishes. From pasta sauces to marinades and condiments, cooking sauces are a pantry essential. But this category has also been hit by inflation as prices rise for ingredients, so finding a balance between taste, quality and affordability is key.
Consumers say they want freshness from packaged cooking sauces, which is driven by the increase in scratch cooking to eat healthier and naturally, according to Mintel's A Year of Innovation in Cooking Sauces & Seasonings 2023. To compete, the report suggests sauce brands focus on functional and holistic health and offer semi-scratch solutions.
In the US, consumers want new and exciting flavor innovation to improve the taste experience with their home-cooked meals. According to Mintel, 61% of cooking/pasta sauce consumers in the US want more suggestions on packaging for extra ingredients to add to a sauce. This likely stems from wanting authenticity and freshness added to each dish.
Craving Authenticity and Flavor Exploration
Cooking sauces are more than just flavor enhancers; they allow us to travel through our tastebuds and – if made right – evoke a sense of authenticity to the culinary experience. The authenticity of a sauce requires it to capture the essence of a cuisine or culture, whether that's a centuries-old technique or utilizing local ingredients.
A well-crafted sauce can preserve the nuances of regional flavors, whether it's the rich complexity of a velvety French bearnaise, the fiery kick of a piquant Mexican salsa verde, or the harmonious blend of spices in an aromatic Indian curry. Sauces allow us to savor and celebrate global flavors from the comfort of our own kitchens.
Savory at Synergy
Synergy specializes in savory flavors that make an impact from the first bite to the very last. Our rich heritage in meat and savory taste solutions means we can help you deliver great-tasting, authentic products that will stand out in a crowded market.
Contact us to schedule your cooking sauces presentation, where you will discover top trending profiles and learn how our savory experts can help create authentic cooking sauces that deliver on the consumer need for exploration through taste.
insights