Consumers Want Spicy and Earthy Gravy Flavors for the Holidays
The "ber" months as they have been fondly labeled on social media were welcomed with excited anticipation this year. September through December (the "ber" months), social media is abuzz with food and drink that captures the essence of fall and winter or the taste of the holidays.
After pumpkin, gravy will be the next big focal point.
From September through November, social media discussions on gravy rise and peak in November, according to Tastewise. Thanksgiving is the biggest U.S. holiday in November and it typically includes gravy for mashed potatoes and turkey. Pantry stocking, menu prep and recipe sharing can account for the uptick in gravy conversation around this time on social platforms.
"Garlic Mash w' Mushroom Gravy 🥔 🍄 🍲 Another great Thanksgiving idea that is delicious but very simple. Mushroom gravy really elevates the dish and adds something different to the traditional standard plain gravy," @dangopecha wrote on Instagram on Nov. 21, 2022.
Flavor Dominates the Gravy Scene
Nearly 60% of Americans say flavor is the most important factor when they buy gravy, bouillons and stocks, according to Innova Market Insights. Taste is followed by cost and shelf life. Tastewise also confirms "tasty" is a top consumer need for gravy, followed by roasted and American cuisine.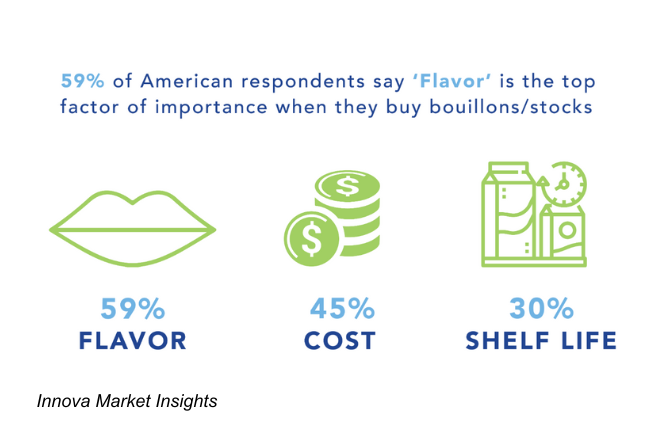 Within the stocks, bouillon and gravy category, mushroom is on the watch list as an up-and-coming flavor, according to Innova Market Insights. Over the past three years, 11 product launches have been mushroom-flavored, six of which launched last year. Spices, which includes products like Steak Spices Bouillon, Herbed Chicken and Spices, Browning and Caramelizing Seasoning, and Poutine Gravy, is on Innova Market Insight's growing flavor lifecycle list. This means we expect to see an increase in product launches and social buzz around spices in gravy later this year.
Spicy and Earthy is the fastest-rising taste preference for gravy among consumers, according to Tastewise, which coincides with mushrooms on Innova's watch list. Sweet is the dominating taste, meaning it has the biggest share of social discussion when it comes to the taste of gravy.
Salt Reduction Solutions
In the stocks, bouillon and gravy category, salt and salt substitutes owned about 95% of product launches over the past year. Salt is used to enhance a savory taste, but the daily intake of salt is a health concern for many. Our portfolio of taste solutions allows manufacturers to reduce the sodium content of their recipes while delivering a more intense and balanced savory taste experience.
Savory at Synergy
Synergy specializes in savory flavors that make an impact from the first bite to the very last. Our rich heritage in meat and savory taste solutions means we can help you deliver great-tasting, authentic products that will stand out in a crowded market.
Contact us to schedule your gravy and broth presentation, where you will discover top trending profiles and learn how our savory experts can help create a tasty gravy that delivers on the consumer's need for great flavor.
insights