5 Trends to Watch in 2023: Dairy & Dairy Alternatives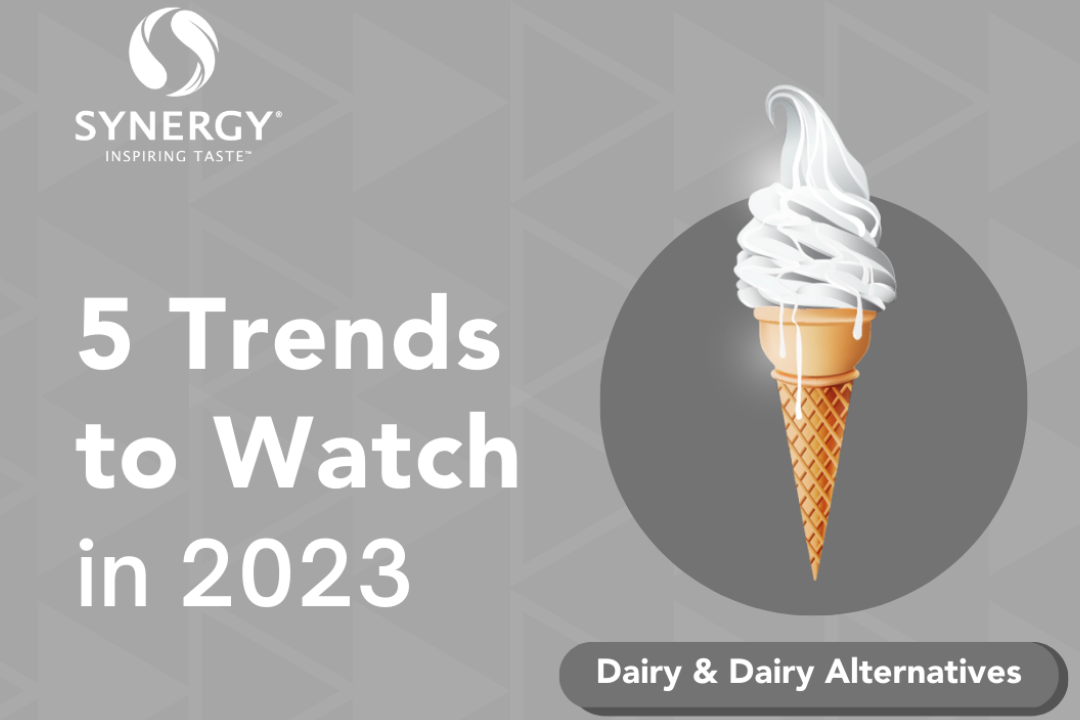 The dairy and dairy alternatives segment is unique in that you will find consumers buying a combination of both products throughout different categories.
With a focus on health and wellness, nearly half of consumers said they think a healthy diet should contain both animal and plant proteins, according to Mintel. We expect this to lead to a growth in animal-free options this year as consumers increasingly prioritize health benefits, sustainability and ethical treatment of animals. Sugar reduction will also step into the spotlight this year and we anticipate non-dairy ice cream will go mainstream.
Check out our 5 Trends to Watch in 2023 featuring Dairy & Dairy Alternatives:
1. Growth in Animal-Free Options
Consumers' increasing demands for health benefits, sustainability and ethical treatment of animals have opened the door for newly emerging animal-free options. Many companies are now investing in their own dairy identical proteins.
2. Greater Attention on Sugar
The category has primarily been focused on fat reduction, with half of all yogurts launched in 2022 having a low, no or reduced fat claim. As has been the case in most categories, sugar reduction will receive more attention from dairy companies moving forward as consumers look for healthier options.
3. Build on Momentum of Plant-Based Cheese
With a growing interest in plant-based foods, there continues to be an opportunity for companies to get a foothold in the small but expanding cheese alternatives category. Getting the product right from the start will be key in this category as taste, texture and performance are all important for consumers to make a repeat purchase.
4. Private Label Will Remain Elevated
The continued impact of inflation on consumer purchasing decisions is one of the trends to watch in the dairy industry in 2023. As consumers look to save money during challenging times, they tend to change their shopping behaviors to reduce spending, such as switching to private label brands. According to IRI, private label is currently outpacing brands in 13 of the 15 categories that IRI tracks in its Dairy15 report.
5. Non-Dairy Ice Cream Goes Mainstream
Dairy-based products continue to be the most popular type of ice cream and frozen yogurt for U.S. product developers. However, there has been significant growth in new product development in non-dairy as large dairy ice cream companies and specialists flood the market. We can expect to see even more activity in this space in 2023 as non-dairy ice cream appeals to mainstream.
As part of the Carbery dairy family, we have unrivalled knowledge when it comes to creating dairy flavors and working with dairy market products. Our expertise extends beyond traditional dairy and into dairy alternatives. As the plant-based market has grown, we have been at the forefront of innovating, leveraging our dairy heritage to create authentic flavors for cheese alternative and dairy alternative products that consumers will love.
Contact us to learn more about our dairy and dairy alternative solutions for the food, beverage and nutrition market.
insights