Synergy Flavors Uncovers Sports Nutrition's Flavors of the Future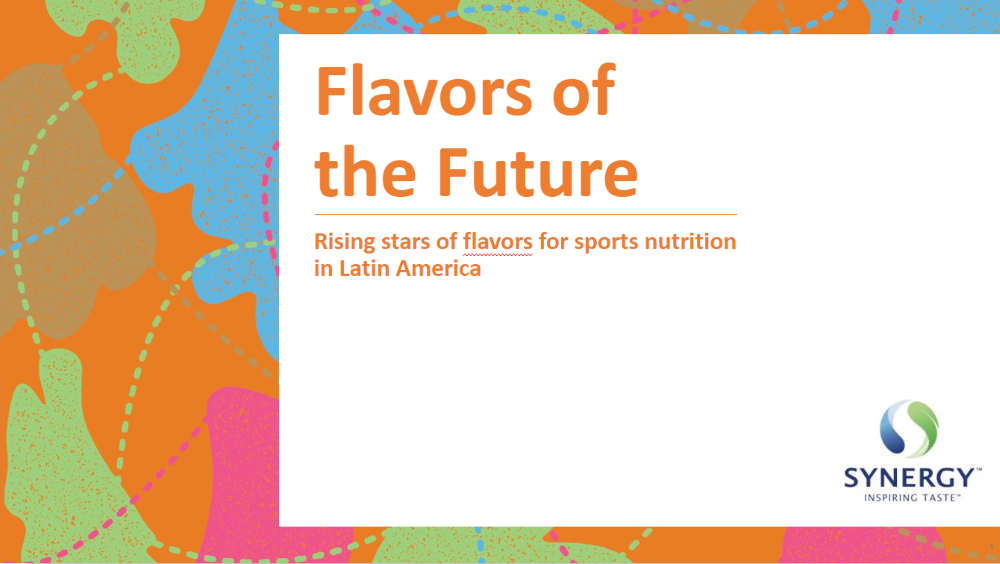 New Research Provides a Flavor Forecast of Emerging, Growing, Mainstream and Established Trends
New research from Synergy Flavors, Inc., a leading supplier of flavors, extracts and essences for the global food and beverage industry, highlights new and inspirational flavors for the North American and Latin American sports nutrition markets. The company's "Flavors of the Future" research yielded a hot list of emerging, growing, mainstream and established flavor trends that will dominate the sports nutrition market, along with expected flavor combinations utilizing Foodpairing® technology, which is based on using science to analyze and determine the compatibility between different ingredients.
Through the "Flavors of the Future" research, Synergy Flavors, gathered insights from industry experts and then benchmarked the input with quantitative data, such as product launches and global search trends. This process identified the palette of flavors, which Synergy Flavors then validated in sports nutrition applications. Finally, Synergy Flavors' team of flavorists and sports nutrition experts assessed and refined the list to create the "Flavors of the Future" hot list. Only those flavors that have true potential in the sports nutrition market made the final cut. Examples from the list include:
Emerging: Ahead of the curve; new to consumers and generally very novel.
Growing: Starting to appear in food products, with the potential to be mainstream in the near future.
Mainstream: Regarded as normal or conventional in a segment and poised to work in sports nutrition.
Established: Well established in certain regions, with the potential for global appeal.
"Flavors of the Future" is more than a list. The results of the research present a guide for sports nutrition companies that will strengthen their competitive positioning by ensuring they remain on trend with their products. As part of the research, Synergy Flavors identified new and upcoming ingredients that are being used by chefs in their restaurants and evaluated the applicability of those in sports nutrition. Yuzu is a good example. The citrus fruit, which grows wild in central China and Tibet, is prevalent in a variety of cuisines and is now migrating to other product categories, such as spiked and sparkling beverages. It combines well with mint, apple and lemon flavors – ideal for sports nutrition applications.
"Our Flavors of the Future research was a journey of discovery, going well beyond a typical research project to represent an in-depth analysis of the trends that will captivate the sports nutrition market in the near and longer term future. Some of which are so novel to the market that those product manufacturers that are considering them are true trendsetters," said Alexandre Massumoto, marketing research lead at Synergy Flavors. "The research results have been fascinating and using them as a guide, we aim to help product manufacturers seize the opportunity to be pioneers in flavor development and stay ahead of the game in the ever-evolving sports nutrition market."
According to Mintel, the importance of flavors is a key purchase driver, as more than 75 percent of consumers are influenced by flavor choice when purchasing a sports nutrition product. Therefore, creating innovative flavors for this market remains a priority at Synergy Flavors. In addition, In 2019, Synergy Flavors will assess the flavors that will most significantly impact sports nutrition in EMEA and Asian markets.
To read more and download a copy of the Flavors of the Future report, click here.
company news