Synergy Flavors Looks to the Mediterranean For Sports Nutrition's Flavors Of The Future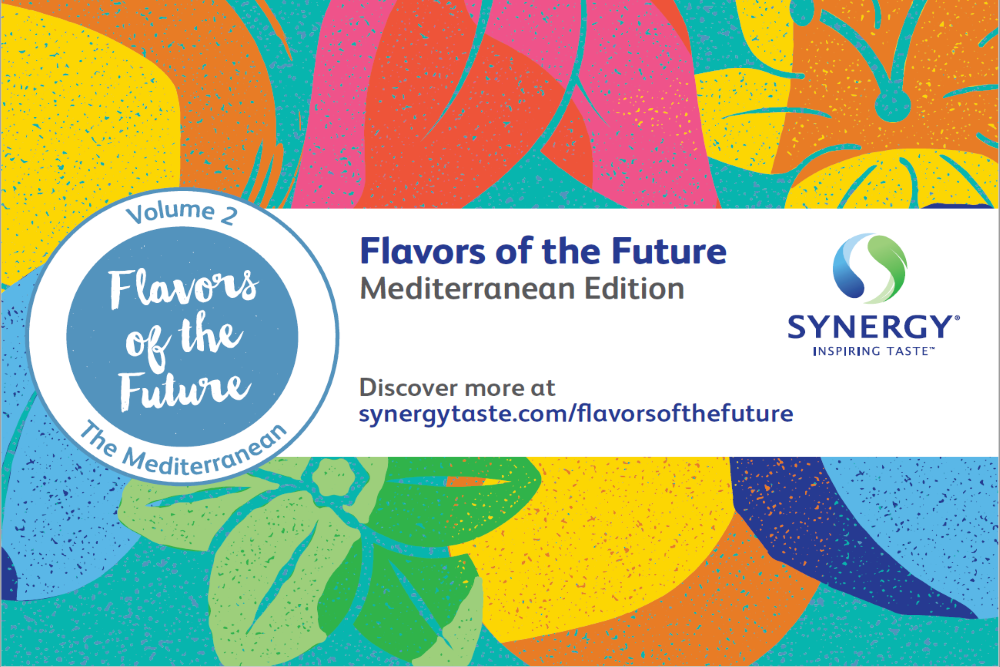 Following on from the success of last year's Flavors of the Future trends launch,
Synergy Flavors has identified the flavors likely to be making a splash in the sports nutrition market,
this time taking inspiration from The Mediterranean.
Following on from last year's exciting flavor trends, which took its inspiration from the Americas, this year's research has turned to the Mediterranean to uncover a hotlist of ten emerging, growing, mainstream and established flavor trends with growth potential in the global sports nutrition market.
Synergy once again used a wide variety of data points including recent product launches, internet search trends and social media to identify trending flavors in and around the Mediterranean from Southern Europe, to the Middle East and North Africa, which could add some taste appeal to many sports nutrition products.
Finally, using our in-house sensory and flavor research capabilities, we identified aromatic matches and suggested custom flavor pairings.
Utilizing this wealth of data, our expert flavor creation and sports nutrition applications teams developed a range of 10 authentic flavors which have been perfectly paired for use in a variety of applications, from plant based protein bars, to whey protein and BCAA beverages.
The flavors range from niche to mainstream and were split into four key categories depending on their mass market appeal – Emerging, Growing, Mainstream and Established. The list includes less well-known flavors such as Baklava or Carob, to flavors such as apricot or pomegranate, which were deemed to have the widest appeal.
To find our more, or access the full report visit https://www.synergytaste.com/flavorsofthefuture
Chris Whiting, Category Manager – Nutrition commented, "The Mediterranean has long been seen as a culinary hotbed and the source of some of the freshest ingredients. Typically, consumers have a specific perception of Mediterranean cuisine, often Italian, but we're starting to see growing interest in cuisines such as Turkish or Syrian."
Innova highlighted Mediterranean flavors as the fastest growing ethnic ready meals category, with a 39% increase between 2014-18. Whilst classic Mediterranean cuisines are certainly responsible for a significant portion of that growth, increased exposure to more niche Mediterranean cuisines is also a significant factor.
We are also seeing an increase in social media activity centred on food from the region. Data from Infegy [accessed via Mintel] showed that social media mentions for "The Mediterranean Diet" were up 111% in the US between October 2018 and March 2019 demonstrating the influence of the region on cuisine and flavor.
To find out more about the flavors of the future for sports nutrition or to speak to the flavor expert team at Synergy:
Visit: https://www.synergytaste.com/flavorsofthefuture
Email: flavorsofthefuture@synergytaste.com
###
Synergy Flavors is a leading, global innovator in flavorings, extracts and essences and has extensive experience across the food and beverage industry developing high quality, innovative taste solutions which help customers to stay one step ahead of the competition. Whether manufacturers seek flavor profiles to mask off-notes in nutritional products, or flavor solutions that enable sugar or butter reduction without compromising taste, Synergy has the proven expertise, application knowledge, sensory science and passion to help. Synergy's flavor creation and application capabilities span the globe – with commercial, manufacturing and technical support facilities in Ireland, the UK, Italy, the US, Brazil and Thailand. As a result, it has assembled the market knowledge to work collaboratively with customers worldwide to develop flavor solutions for diverse food and beverage categories. Synergy's 2018 acquisition in Trieste, Italy added to the company's herbal extracts and natural flavorings expertise and extended its reach into Southern and Eastern Europe. Investing continuously in R&D and technical capabilities, the company's commitment to analytical and sensory innovation ensures it is always on hand to deliver the latest market insights and flavor breakthroughs. Combining a long heritage of flavor development with modern extraction technology, Synergy blends art and science to create an exceptional array of tastes.
company news