Synergy Calls for Support to Aid the SAVA Region After Cyclone Enawo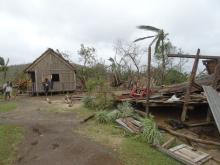 A note from our President & CEO, Rod Sowders. 
It unfortunately took much longer than anticipated to find an organization that could assure us they were working directly in the SAVA region but Synergy has been successful in setting up a link with CARE for employees to donate directly. All the contributions will go directly to CARE's Cylcone Enawo relief efforts in Madagascar. Their urgent first priorities are food and shelter, and they have been providing 15 tons of biscuits as an immediate means of food,  and plastic sheeting to aid in temporary shelter for the people of Antalaha.  Longer term, they are working on rebuilding homes that are cyclone resistant. Here is a story that the contact at CARE shared of Trancia and her "cyclone-proof" home:
Saved inside the cyclone-proof house
The village of Antseranambidy in Antalaha, where about 350 households live was hit by the intense tropical cyclone Enawo on March 7, 2017.  Significant damage on shelter was reported by the chief of the village.  CARE team went to Antseranambidy to assess the impact of the cyclone and identify the needs of the affected community.  CARE staff met Trancia, mother of a 2 years old girl.  She is a single mother and they live with her mother Beviavy Christine, 43 years old in her "cyclone-proof house".  Their house is among the few ones that remained unbroken in the village.  "We heard about the cyclone and we get prepared for it; putting important documents in safe place, and locking the door and the window" said Trancia.  "We were lucky, our house is strong and we were safe in it.  I must say that our house is special." she added.  In fact, Christine's house is among the 115 cyclone-resistant houses built by a Disaster Risk Reduction program that CARE implemented in the North East and East of Madagascar between 2014 and 2016.  Though the house is made with local materials say wood and leaves, the architecture has been improved to make the house stronger than the traditional ones.  The pillars are set in a manner to avoid the walls to be easily swept away by the wind.  The roof is fixed strongly with the pillars.  Trancia proudly ended with "You can see in our village, our house is among those that was not affected.  The neighbors should learn lessons from this cyclone, it is proven now that our house, especially the architecture is really strong." The six people living in this improved house were safe and secure during the cyclone nightmare.
Synergy has already provided a donation to the organization. If you have the capability, please join me in contributing to this worthy cause.  Here is a link to contribute directly to this effort…no contribution is too small.
http://my.care.org/site/Donation2?df_id=21885&mfc_pref=T&21885.donation=form1
company news